We've officially moved and I'm in my new Chic n Scratch Studio.
We moved in last Friday, September 11th. I've only unpacked our kitchen and stamps, ink, and paper. I've also unpacked the Stampin' Cut & Emboss Machine (and all the dies the embossing folders). Everything else is still in boxes (even my pantry)…. but, I'm not going to rush the unpacking!! I have some items I need to find sooner rather than later!!
Last week I shared on my Chic n Scratch Stamps Facebook Group a whole series of photos of the building process. I'm going to share them with you all now …but first I'll share how it looks at the moment. The stamps up top won't stay there … I'm waiting for my stamp shelves to get repainted to match this room.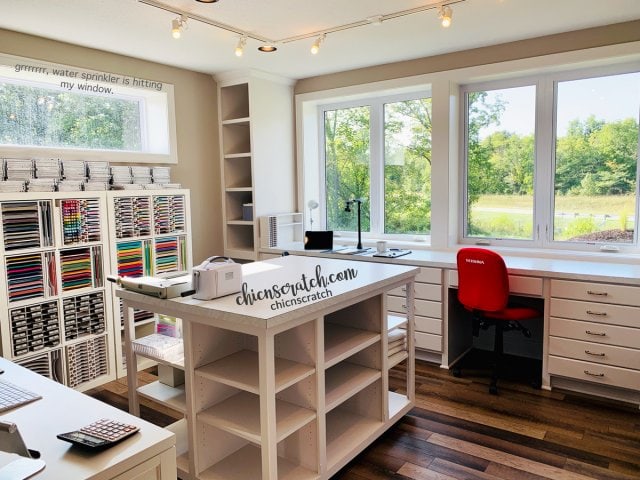 And, yes I'm still pinching myself … I kept most of it under wraps because I was so afraid something would happen and we wouldn't end up moving. With Covid19 nothing is a given anymore!!
As soon as I get unpacked and find a home for everything I'll do a video room tour and I'll share where everything is organized. I've gone from a room that measures 28′ x 17′ to a room that's 15′ x 14′. It may take me a few months to get it all figured out!!
Here's a comparison

Here's the building progress….
The framing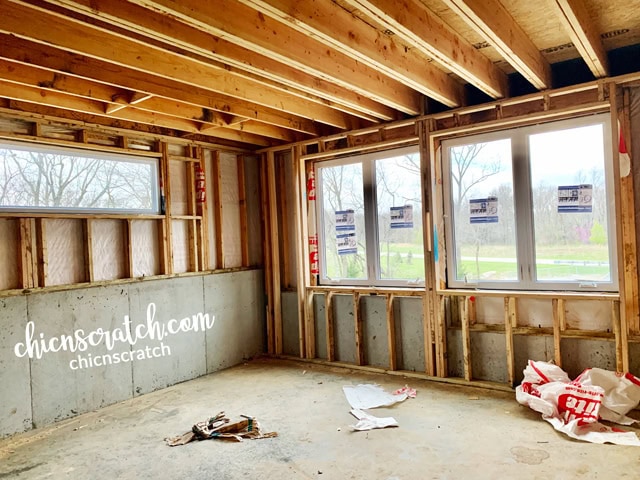 The Cabinets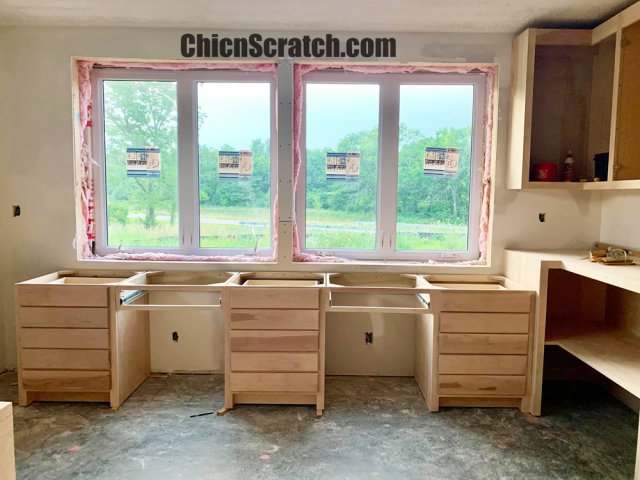 The other side of the room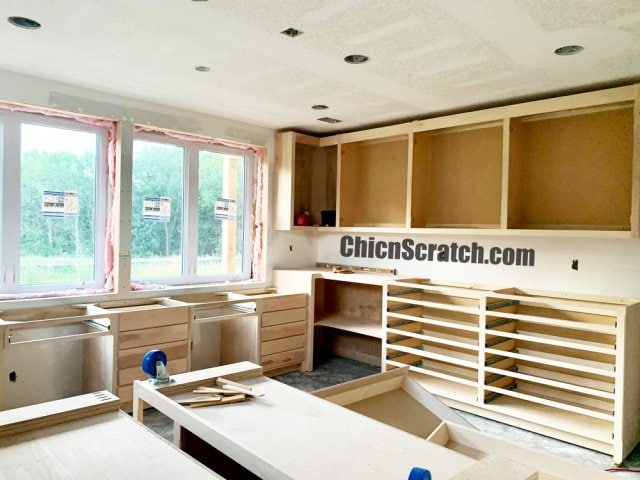 The paint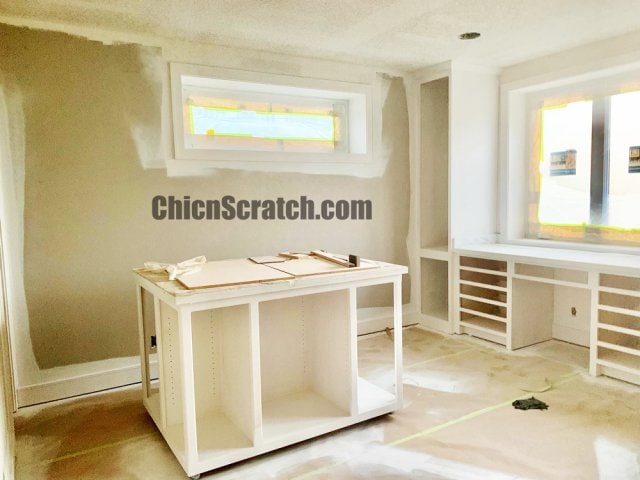 Floors and Lights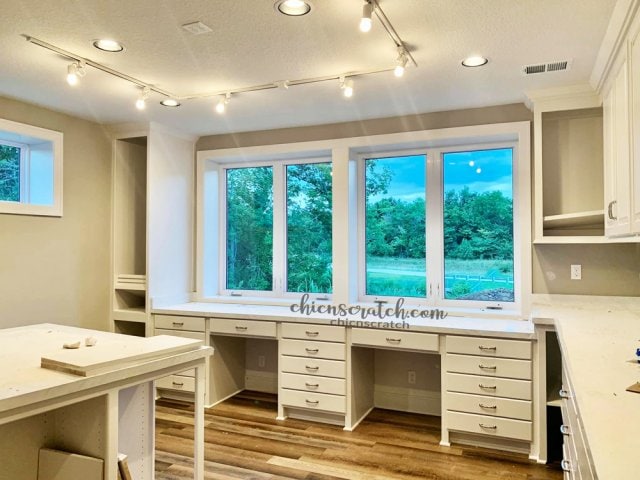 It's complete!!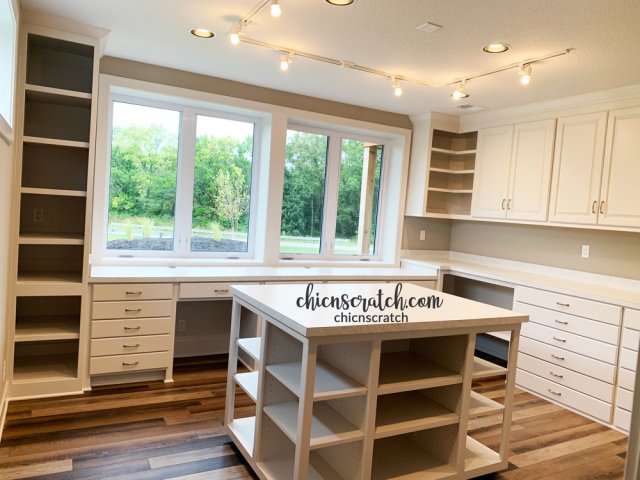 I shared a drawing of my studio with you several months ago. But once the build started we realized just how small this room was. So, we scrapped the drawing and went with custom cabinets on two sides of the room (maybe later we can do the other two walls). For my Stamps, Ink and Paper I'm using all Stamp n Storage products and I'll provide all the details once we get everything unpacked (if you look closely at the first pic you'll see empty spaces).
Here's our 1st or 2nd draft drawing that we made last December. I purchased the Alex Drawers in December but returned them once we decided to go the custom route. For those of you looking to redo your craft room I'd be happy to help your map your room out using Ikea Shelves, Ikea Alex Drawers and Stamp n Storage.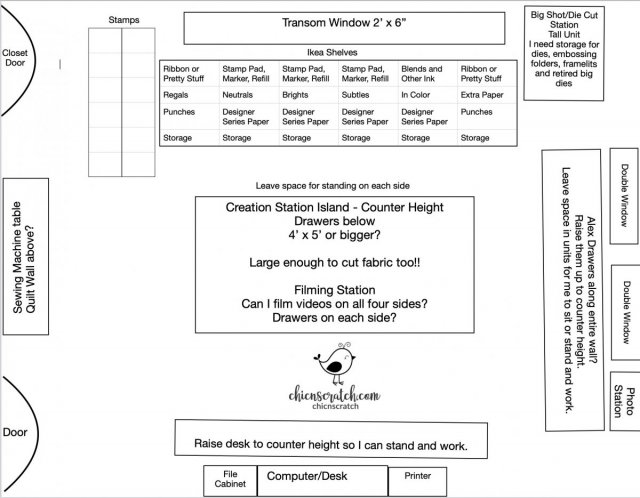 Now back to business!! I'm back to doing to my two live videos every week and over the next week or so I'll get all those projects posted here on my blog.
Thank you again for all your patience over the last year and especially the last month! It's hard to believe we started this process in September 2019.
Get & Go Starter Kit Promotion
Now's the perfect time to join Stampin' Up! and become a Chics Paper Ink member!!
In addition to the regular starter kit (for $99) you can choose $125 -worth of products. You will also receive:
Cardstock to make 16 cards
Pack of Rhinestone Basic Jewels
So Much Love stamp set
Queen Anne's Lace stamp set
8 packs of precut cardstock of the coastal cabana pack will be provided, and 8 packs of precut cardstock of the Granny Apple Green pack, for a total of 16 cards (packs include envelopes).
Important note: Ink, adhesive, cutting tool, and clear block for stamping must be purchased separately. However, these products may be included as part of the Starter Kit product selection.
If you have any questions about joining please let me know! Hobby demos and business builders are welcome!! You can find more info by clicking here.
September 15th – 30th Host Code: PR7FK7J6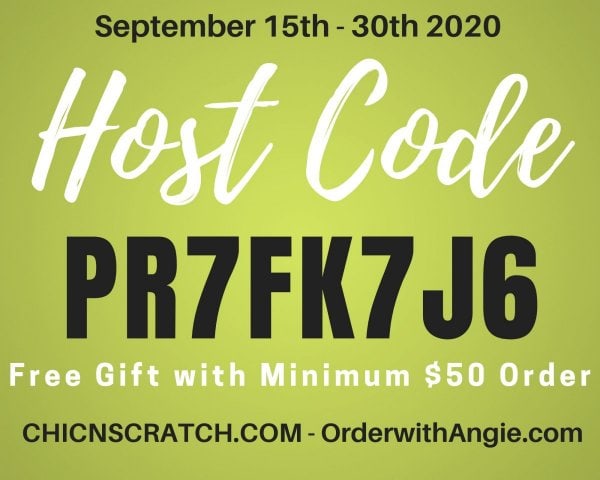 If you're having issues logging into my Stampin' Up! Store or placing orders, click here for more details.
Reminders
Free Stamps or Dies with Chic Rewards – Earn a Free Stamp Set or Dies by earning one Chic Reward for every $25. Click HERE for details on you can earn a Free Stamp Set or Dies.
Stampin Rewards from Stampin' Up! All orders of $150 or more receive free hostess dollars to spend on anything you'd like in the Stampin' Up! Catalog. Redeem the Stampin' Rewards at the time of your online order.
Stampin' Anonymous Tutorials
You have three ways to get this amazing tutorial….
Thank YOU for stopping by, have a great day and stay healthy!!
Click HERE to shop online – OrderwithAngie.com