Stampin' Up! September Promotions with Chic n Scratch, Stampin' Up! Demonstrator Angie Juda
Buy Three Get One Free Designer Series Paper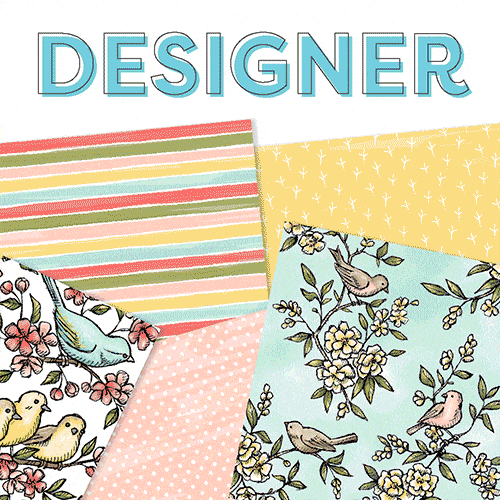 September 4 – 30, 2019
Only Designer Series Papers listed below qualify for this promotion. You may mix and match papers from any of the listed papers.
There is no limit to how many times participants can buy three packages of Designer Series Paper, and get one free during this sale.
Ordering online … when three qualifying Designer Series Paper packs are entered, a prompt to add a free Designer Series Paper will appear.
In the online store, if a customer orders four packages of the same qualifying Designer Series Paper, they will need to enter three together and then order the fourth free item separately.
Designer Series Paper ordered as part of a Starter Kit does not qualify for this sale.
Designer Series Paper ordered with Stampin' Rewards does not qualify for this sale.
Here's the list of Designer Series Paper that qualifies for Buy Three get one FREE.
Perennial Essence #149100
See a Silhouette #149443
Come Sail Away #149481
Magnolia Lane #149484
Garden Lane #149488
Follow Your Art #14949
Woven Threads #149497
Dinoroar #149589
Bird Ballad #149592
Pressed Petals #149500
Holiday Catalog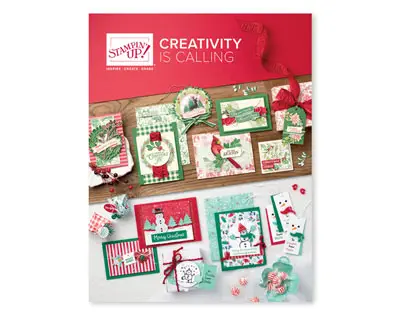 The Holiday Catalog goes live on September 4th, 2019. Ordering will be unavailable on September 4, from midnight to 3:00 AM (MT) while Stampin' Up! transitions the system to the new catalog. Click here to view the Holiday Catalog.
September Host Code: R4AM9WHB
Holiday Catalog + Facebook Live
The Holiday Catalog goes live tomorrow September 4th. I'll be going live at 10am and 7pm to go through the Holiday Catalog (page by page). I'm not sure if I'll be making my usual Coffee & a Card in the morning … It depends on how much I get done today. I was out of town Friday – yesterday and my to do list would scare you!!
Both live videos will take place on my Chic n Scratch business page. Click here to go there now. If you can't see the video … give it a few minutes and try again.
Adhesive Totes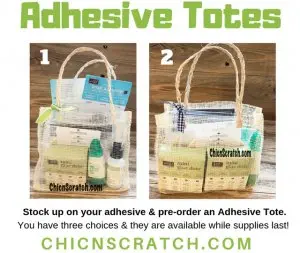 Tote 1: Total Value $51.31 Cost: $42.75
Tote 2: Total Value: $58.20 Cost $48.50
Stampin' Anonymous Tutorials – September 2019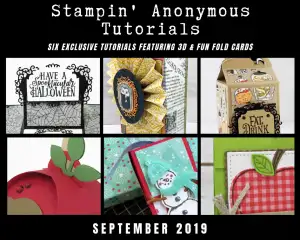 You have three ways to get this amazing tutorial….
Receive it FREE with any Stampin' Up! order placed with me this month.
Purchase the PDF tutorial for $9.95 (one month price). Click here to purchase the tutorial.

Join my Team! They get them free!
Stamp Club Online can help you budget your Stampin' Up! purchases during your six month membership. Each month you'll place a minimum order of $25 by the 15th of the month and at the end of six months you'll receive $25 in Free Product of your choice.
NEW – Members Only Website – If you're not on Facebook you can now join and access the content.
Four (4) Exclusive Video Tutorials each month
Step by Step Instructions & Supply List for each project
Chic Stand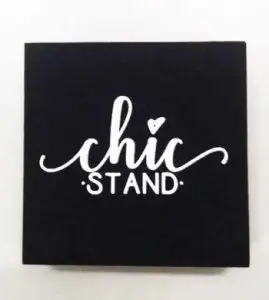 Click here if you would like to purchase a Chic Stand.
You can use the Chic Stand to hold these items …
Take Your Pick Tool
Take Your Pick Tool stylus tip
Paper Piercer
Pins and Needles
Click HERE to shop online – OrderwithAngie.com