Holiday Catalog Live Video with Chic n Scratch, Stampin' Up! Demonstrator Angie Juda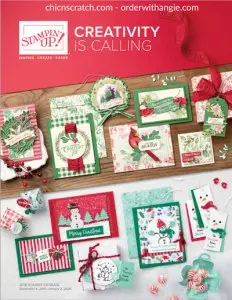 I absolutely LOVE the Holiday Catalog and here's my live video where I went through it page by page.
INSERT VIDEO
I'm going to keep this post short so that I can get back to the project I'm working on for you later today.
Thanks!!
Have you tried to place an order on my Stampin' Up! website and had issues… like a black bar blocking you?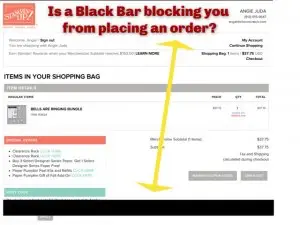 September Host Code: R4AM9WHB

Designer Series Paper – Buy 3, Get 1 FREE
September 4 – 30, 2019
Click here for all the details.
Adhesive Totes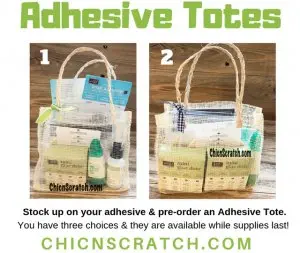 Tote 1: Total Value $51.31 Cost: $42.75
Tote 2: Total Value: $58.20 Cost $48.50
Stampin' Anonymous Tutorials – September 2019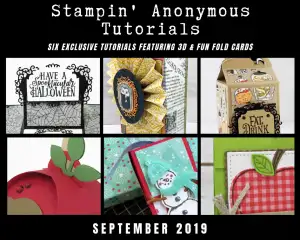 You have three ways to get this amazing tutorial….
Receive it FREE with any Stampin' Up! order placed with me this month.
Purchase the PDF tutorial for $9.95 (one month price). Click here to purchase the tutorial.

Join my Team! They get them free!
Stamp Club Online can help you budget your Stampin' Up! purchases during your six month membership. Each month you'll place a minimum order of $25 by the 15th of the month and at the end of six months you'll receive $25 in Free Product of your choice.
NEW – Members Only Website – If you're not on Facebook you can now join and access the content.
Four (4) Exclusive Video Tutorials each month
Step by Step Instructions & Supply List for each project
Chic Stand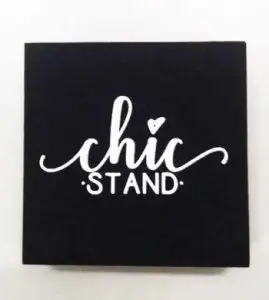 Click here if you would like to purchase a Chic Stand.
You can use the Chic Stand to hold these items …
Take Your Pick Tool
Take Your Pick Tool stylus tip
Paper Piercer
Pins and Needles
Click HERE to shop online – OrderwithAngie.com