Storage by Stampin' Up! in my Chic n Scratch Studio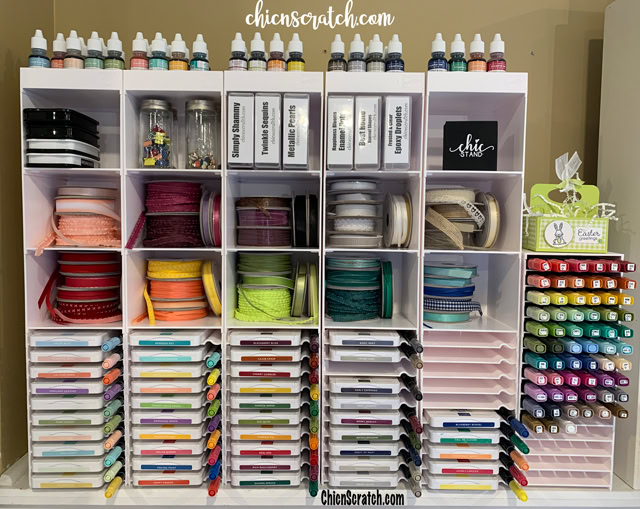 I'm super excited to share with you my new storage wall using all the pieces of the Storage by Stampin' Up!
Benefits for me (Angie)
They are lightweight.
They take up less real estate on my shelf.
I can reach the top shelf (yes I'm only 5'3″).
These the questions that I've received in the last 24 hours.
Q. Do the old ink pads fit in the Ink Pad Storage?
A. They will fit …but the sides will have a small gap. I would suggest you order one and see if you can live with the gap. If not you can always use them for the brand NEW In Colors coming out in June.
Q. How many pieces did you use?
A. For my set up….. Ten (10) Ink Pad & Marker Storage Trays, Three (3) Stampin' Blends Storage Trays, Fifteen (15) Open Storage Cube, Five (5) Storage Topper, One (1) Storage Lid
Q. Will they be in the Annual Stampin' Up! Catalog?
A. YES!
Q. Do the Stampin' Blends Markers fit next to the Ink Pad?
A. No, that space is for the Stampin' Write Markers.
Q. Are you getting rid of your old storage units?
A. No! I can use them in another area of my office. I do my Zoom training calls on this wall and I wanted the setup to be all Stampin' Up!
Q. Do they fit on the IKEA Kallax shelves?
A. YES! I moved some of my fabric aside to test it.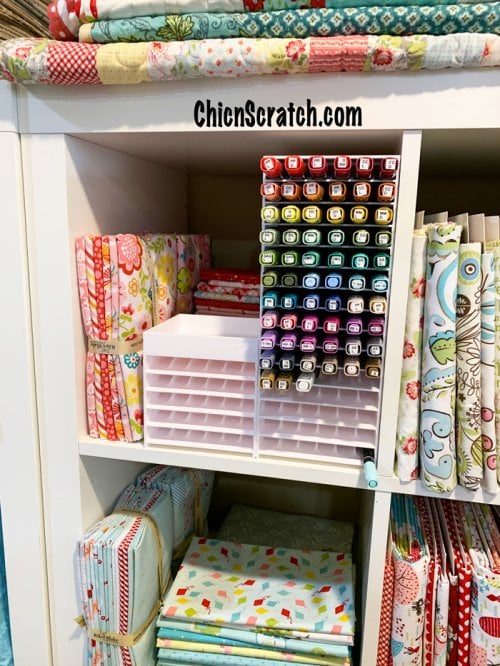 I feel pretty confident that I can answer everyone's questions now that I've set it up in my studio. As a demonstrator I carry all the colors of stamps, ink, paper and ribbon. I LOVE paper crafting…. but it also my job. I have all the product because it's what I need to run my business. I would never expect anyone to purchase all the pieces. I'm just showing you options.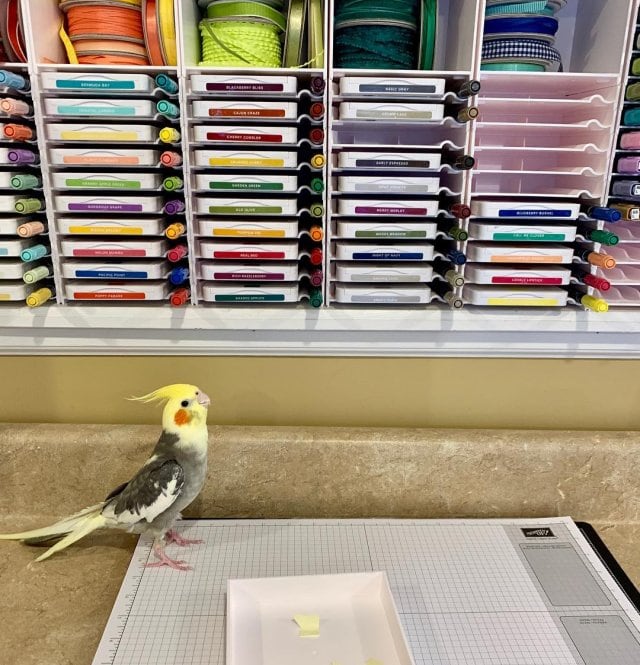 Elvis checking out my new storage!
You can find more details about the Storage units by clicking here.
One more IMPORTANT NOTE: These items may sell out quickly and if they do… Stampin' Up! will turn off the ordering button. Not to worry … they will be in the annual Stampin' Up! Catalog.
Here's my live video from yesterday….I didn't edited it and I should because it's not my finest work (some negative comments threw me for a loop) but I know some of you will want to watch it regardless of whether it's perfect or not.
I'll be back in an hour or so to share the project I made on Monday during Facebook Live.
Stampin' Anonymous Tutorials
Any size order will receive the Stampin' Anonymous Tutorial Free!
You have three ways to get this amazing tutorial….
Receive it FREE with any Stampin' Up! order placed with me this month.
Purchase the PDF tutorial for $9.95 (one month price). Click here to Buy
Join my Team! They get them free!
My other offerings…
Chic Stands & Coasters – Orders Ship Daily!
April Host Code : S2DUE3KZ

Order $50 using this Host Code and receive a free gift.
Chic Rewards are not earned when a Hostess Code is used on an order.
Orders under $50 will receive the Stampin' Anonymous tutorials via email.
Please read all the details before placing an order using a Host Code.
I love comments!! If you have any questions/comments about this post please leave a comment.
Thanks & have a great day!