New Stampin' Up! Catalog Pre-order with Chic n Scratch, Stampin' Up! Demonstrator Angie Juda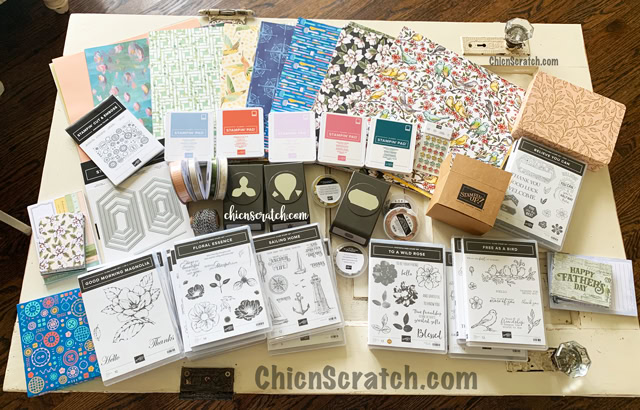 Here's the video of the 2019-2010 Stampin' Up! Catalog Product Pre-order.
New Stampin' Up! Catalog Information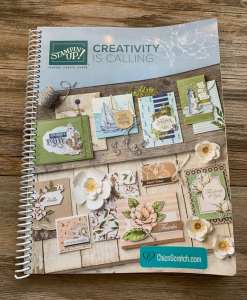 Anyone that has ordered a minimum of $50 from me (Stampin' Up! product) in the last 90 days automatically qualifies for a FREE Catalog. An email was sent on April 15th and I'll recheck that list later this month. If you've ordered, you don't have to wait for my email to fill out the form. I'll be confirming them again at the end of the month. Please click here to complete the form to receive your catalog.
There are three ways to earn a Spiral Bound Stampin' Up! Catalog.
OR
2. Customers that have purchased a total of $250 since January 1st also qualify for a free spiral catalog bound catalog and will receive an email from me (this email was sent on April 15th). Please check your spam folders!!
OR
3. Every video I post between April 15th and April 30th I'm going to raffle a Spiral Catalog. Don't forget to watch my video to see how to enter to win!
In order to receive the Spiral Bound Catalog, please confirm by
completing my form
. It could take up to an additional week for delivery, but you should have it in plenty of time before it goes live on June 4th, 2019.
One last note: I will confirming those that qualify for a Spiral Bound Catalog … if you fill out the form and have not qualified I will send you the standard catalog. I understand that all these details are a little confusing .. if you are unsure you can reach to me via email or phone.
Coffee and a Card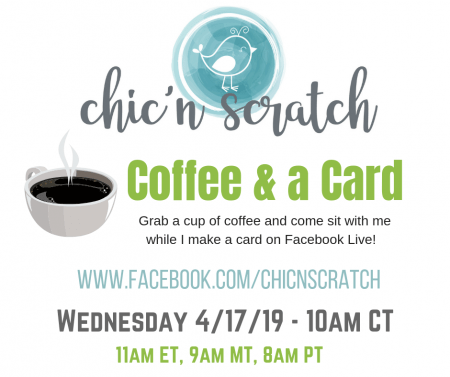 Coffee & a Card on Facebook – Wednesday, April 17th, 2019 – 10am Central Time.
Grab a cup of coffee and come sit with me while I make a card on my Chic n Scratch Facebook business page.
I love comments!! If you have any questions/comments about this post please leave a comment.
Thanks & have a great day!
Click here to Print the Annual Catalog Retirement List – updated 4/16
Click here to Print the Occasions Catalog Retirement List – Updated 4/16
Click here to Print the Carry Over Stamps List.
Chic Stands & Coasters – Orders Ship Daily!
April Host Code : S2DUE3KZ

Order $50 using this Host Code and receive a free gift.
Chic Rewards are not earned when a Hostess Code is used on an order.
Orders under $50 will receive the Stampin' Anonymous tutorials via email.
Please read all the details before placing an order using a Host Code.
Stampin' Anonymous Tutorials
Any size order will receive the Stampin' Anonymous Tutorial Free!
You have three ways to get this amazing tutorial….
Receive it FREE with any Stampin' Up! order placed with me this month.
Purchase the PDF tutorial for $9.95 (one month price). Click here to Buy
Join my Team! They get them free!