I've received a few questions regarding the Storage by Stampin' Up! and I'm just going to do a quick blog post answer a couple of them.
Question #1 Can you transport the storage cubes?
Answer #1 You can … but the units snap together but they do not lock. In other words by moving them they can fall apart. The solution I've come up with is a very large rubberband. I have four of them on hand from my Smash Book days …. here's a picture.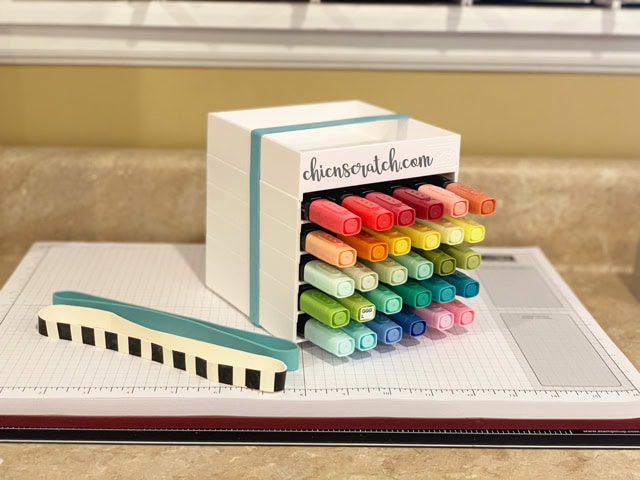 A couple notes about this … the Rubber Bands work best with the Open Storage on top so that you can pick it up … it still works with the regular lid. If you use these … make sure you slightly angle them back or everything will fall forward 🙂
Click here to check out the bands on Amazon.
Question #2 Can you use the old ink pads in the new storage units?
Answer #2 It is NOT suggested. But you can make them fit. Just understand that if you do there will be a gap and the gap can make the units unstable on your desk. Here's a picture…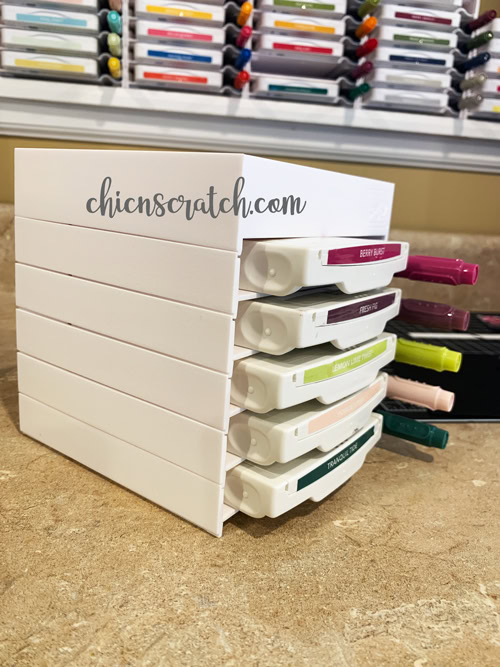 You can clearly see the gap and if you have these stack 10 high or ever greater I'm not sure if it will help or hurt.
My suggestion is to use the Open Storage Cube…… how I've done so in the picture below. Top left corner are the In Colors retiring next month and I never bought the new style ink pads.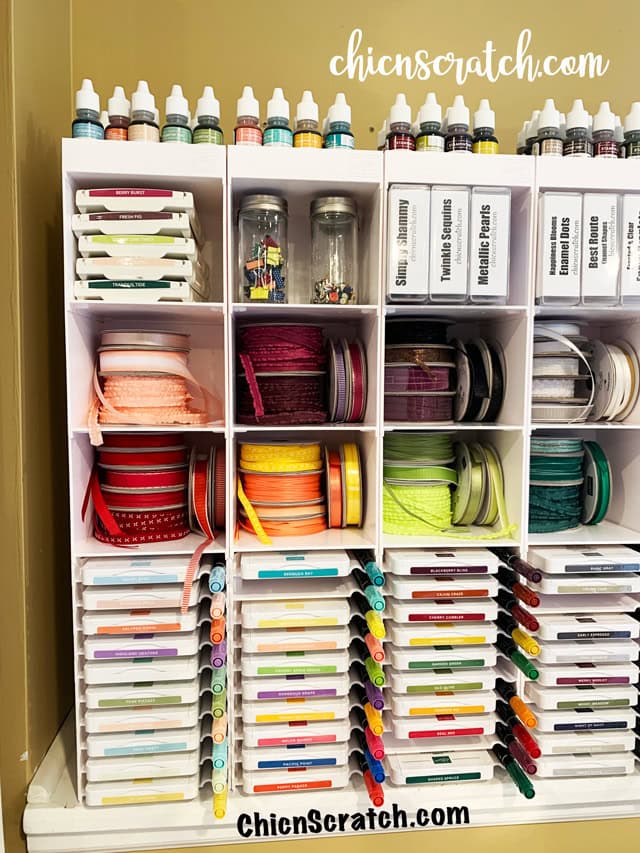 If you have any other questions feel free to send them to me … I love helping you all decide what will work best for you!!
Now for my drama … I'm working on getting my Coffee and a Card video posted from yesterday… but … it's downline day and I woke up to my fridge being dead. So far I've emptied out all the food out of the fridge … next is the freezer. Thank goodness we have a freezer in the basement and I can transfer that (but it may take a hundred trips). And… I need to go buy a fridge and hope they can deliver it soon … and I need to go buy all the essentials like mayo … etc. GRRRRRR
So, my work week has not turned out as planned. As soon as I get the freezer food transferred I'll get back to posting my card.
Thanks & have a great day!
Stampin' Anonymous Tutorials
Any size order will receive the Stampin' Anonymous Tutorial Free!
You have three ways to get this amazing tutorial….
Receive it FREE with any Stampin' Up! order placed with me this month.
Purchase the PDF tutorial for $9.95 (one month price). Click here to Buy
Join my Team! They get them free!
My other offerings…
Chic Stands & Coasters – Orders Ship Daily!
April Host Code : S2DUE3KZ

Order $50 using this Host Code and receive a free gift.
Chic Rewards are not earned when a Hostess Code is used on an order.
Orders under $50 will receive the Stampin' Anonymous tutorials via email.
Please read all the details before placing an order using a Host Code.
I love comments!! If you have any questions/comments about this post please leave a comment.