Simple Christmas Cards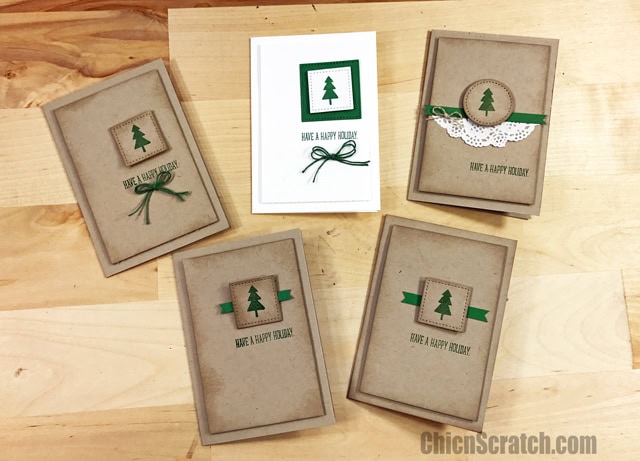 The cards I'm sharing today are my attempt at creating a Simple Christmas Card during my Facebook Live video.
I need over 400 Christmas cards this year (downline & customers) and I really need a card that is easy to make. When I finalize my card I'll share it!!
After four attempts … I think I like the bottom left … with less sponging. I'm going to think on it a few more days. I'll be placing my order for supplies on Monday when the Stampin' Up! Online Extravaganza starts!
I used the Stitched Shapes Framelits with the little tree and the tree came from the Hang Your Stockings Stamp Set (that's on sale now) with the Clamper Greetings Stamp Set (that will be on sale Nov 21st – 28th).
Click here if you would like to watch the live video on Facebook.
Speaking of the Stitched Shapes Framelits #145372 they've been so popular that they're going on backorder. You have until Sunday, November 20th to place your order and then the ordering number will be turned off.
They'll be available again in the future (in the June 2017 catalog) but if you want them this holiday season, order them before November 20th.
You'll be seeing more of the Stitched Shapes Framelits in my 12 Days of Christmas … I designed them before we were told they were going on backorder.
Speaking of the 12 Days of Christmas … I'll resume with Day #3 tomorrow (yes on a Saturday).
Facebook Fridays
I'll be filming LIVE on Facebook on my Chic n Scratch business page on Fridays. Between 10:00am – 10:30am. If you want a notification when I go LIVE please do the following:
"Like" my page
Click on "Notifications" and select "on".
Click here to visit my Chic n Scratch Facebook Page.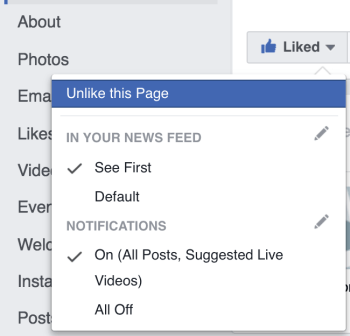 Online Extravaganza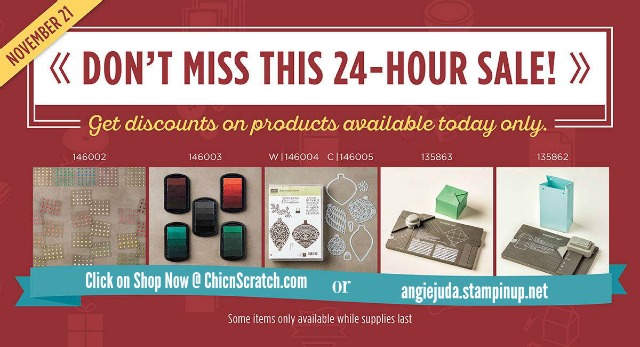 Save up to 40 percent on select Stampin' Up! products during our week-long Online Extravaganza – Black Friday/Cyber Monday Sale!
This year's Online Extravaganza will include 24 hour sales on Nov. 21 and Nov. 28 featuring special discounts only available that day.
All other items will be on sale during the entire week… November 21 – 28!
Click here to download the Online Extravaganza PDF.
Because there are so many details to the Online Extravaganza … I'll be doing a separate post just to share all the details.
Thank and have a great day!
Promotions
Hostess Code: PM63XJJE
If you would like to order Stampin' Up! product
…. please click on our signature below.