Stampin' Up! A Little Foxy Cards and Critters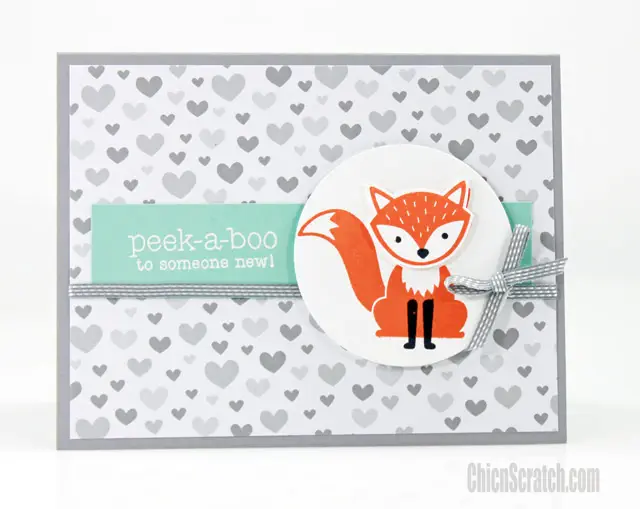 This week I'll be focusing on A Little Foxy Suite on page 56 of the Stampin' Up! Catalog.
You may noticed that some of the projects I'm showing you … have totally been copied right from the catalog. I thought they were super cute and why change them … I will say if I didn't need a few baby cards on hand I would have changed the greeting.
Now here comes the fun part …. every day this week with the exception of Thursday I will share a Cards and Critters project along with a video and I will have a kit available for 2 weeks.
Here's the details:
Place a minimum Online Order of $30 using the Hostess Code MRSDZUYT

Dates: August 8th – 22nd
Cards and Critters Kit will make 3 Cards and 3 Critters.
Kits will ship the 1st week of September.
Fine Details:
Multiple Hostess Codes can not be used when placing an order.
Earn Chic Rewards on every $25 ordered.
One Kit per order.
You will not receive the kit if you do not use Hostess Code MRSDZUYT.
Cards and Critters Kit Contents:
All the supplies included to make 3 Cards and 3 Critters.
+9 additional sheets of A Little Foxy Designer Series Paper.
3 Envelopes
Glassine Bags (full package)
You'll see a picture of the kit in the final video.
Click HERE to watch the You Tube Video on how to make the Cards and Critters Card One with Stampin' Up! Product on Chic n Scratch.
Click here to download the Supply Sheet.
Stampin' Up! Supplies
12 Weeks of Halloween
Our first project for the 12 Weeks of Halloween will be posted on Thursday and on Monday, Tuesday, Wednesday and Friday I'll post the Cards and Critters.
Promotions
Thanks and have a great day!
Hostess Code: R6HJYCYD
If you would like to order Stampin' Up! product …. please click on our signature below.