NEW Stampin' Up! Catalog 2016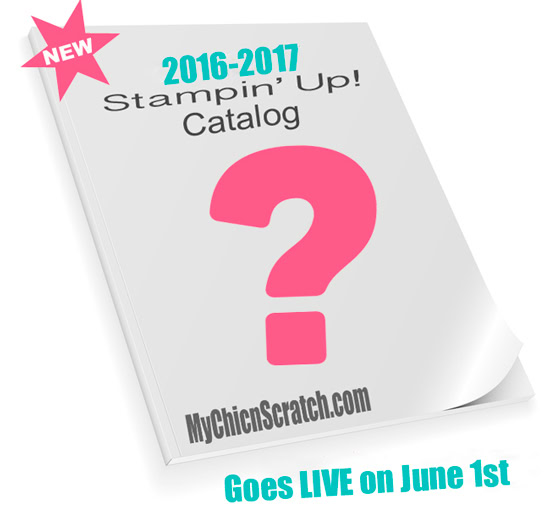 The Brand NEW Stampin' Up! Catalog will go LIVE on June 1, 2016 at approximately 4am central time.
Please read the following important information:
If you ordered a minimum of $50 from me between April 2015 and April 2016 you are eligible to receive a FREE Stampin' Up! Catalog.
Please fill out the form below to request your free copy. This has changed since last year because we mailed catalogs to everyone without a request and the number of incorrect addresses were shocking!
Special Note
This year the Annual Stampin' UP! Catalog will only be sent if you request one ….. by filling out the form below. This applies to everyone!
NEW Catalog Timeline
Catalog goes live June 1st, 2016 at 4am CT
Demonstrators can order the new catalog beginning on May 3rd.
You can expect your NEW Catalog to arrive mid to late May.
Online Ordering will be down from midnight May 31st until 4am on June 1st (central time).
If you are not a preferred customer and would like a FREE catalog .. all that I ask is that you pay the Priority Mail Shipping Fee. The link to pay will be inserted HERE when we are allowed to sell the NEW Catalog.
Please contact us if you have any questions about the Catalog.
Note to Demonstrators: If you are a Stampin' Up! Demonstrator please do NOT request a Catalog from me. Stampin' Up! will provide you a free Catalog. Here's the details posted on the Stampin' Up! website: Your complimentary catalog will be included with your first demonstrator order placed May 3-15. If you do not place a demonstrator order May 3-15, your complimentary copy of the 2016-2017 annual catalog will automatically be sent to you via standard (bulk) shipping; standard shipping can take up to three weeks depending on your location.
On Stage
I am sad to say I will not be attending On Stage next week and unfortunately I will not be getting a catalog early (insert major sad face)! My hubby is having another small procedure on April 11th and I'm having surgery on April 18th (the knot on my head). Brooke is graduating college on May 14th and she has her gallery showing on May 6th. Being available when my family needs me is one of the biggest benefits of being a Stampin' Up! demonstrator and although I'm sad I'm not attending On Stage I know in my heart it was the right decision!
Not going to On Stage will not affect the delivery of Catalogs to all my amazing customers!! Just make sure you fill out the form above to request it.
Speaking of my amazing customers …. I am working on a NEW Customer Appreciation program and my plan is to announce it around the time the NEW Stampin' Up! Catalog goes live on June 1, 2016. Stay Tuned!!
Retirement List
The Stampin' Up! Annual Catalog retirement list will be available Monday, April 18th around 2pm Central Time. Please note that items will sell out very quickly!!
Promotions
April Giveaway – Coming soon!

April Thank You – Coming Soon
Thanks and have a great weekend!
Hostess Code: AVECQBRW
Use this Hostess Code and receive a free gift! (Please do not use the Hostess Code if your order is $150 or more). Click here to learn how to enter the Hostess Code.
If you would like to order product from the Stampin' Up! Catalog …. please click on our signature below.