Weekly Deals and More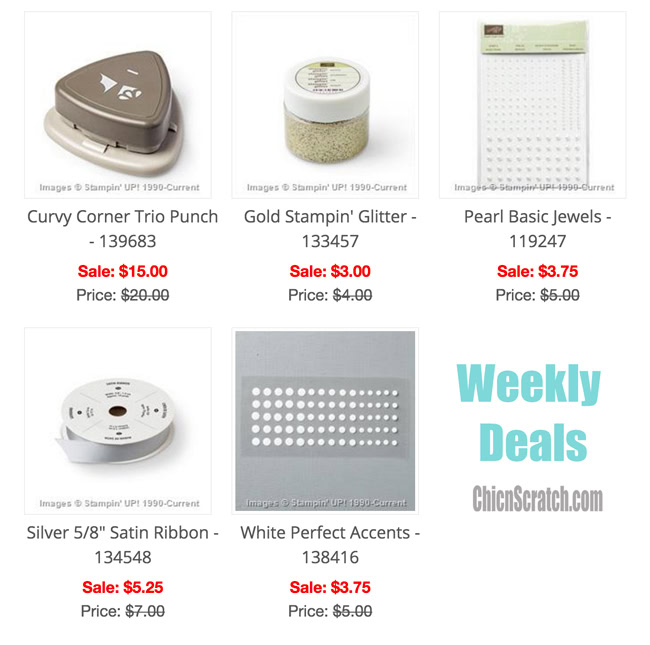 Here are the Stampin' Up! Weekly Deals:
Stamp Sets
When I posted the details of my Craft Garage Sale I posted the question "how many stamp sets did I bring back in"?
The answer was 10 and Dolores North was the winner. Here's the names of the ten stamp sets:
Festive Four
Think Happy Thoughts
Batty for You
Stella Stamper
Festive Favorites
Pun Fun
Halloween Hedgehogs
Flaky Friends
Deer Friends (two of this one)
That's not my list of favorite stamps .. that's just the ones that found their way in the garage sale stuff and I said "no way you're coming back in"!
Stamping Basics – Video Series
One of the perks of joining my mailing list is you will receive the Stamping Basics Video Series … as well as exclusive tutorials not posted on my blog. I've not done a very good job lately of sending exclusive tutorials … but I'm going to be changing that very soon! To join my mailing list – look on the right side of my blog and enter your info in the SUBSCRIBE Box. You can't miss it because it says right under subscribe "Receive our Stamping Basics Video Series and Exclusive Tutorials!"
Chic n Scratch – Winners
Laura and I decided that we needed a page to list all the winners of our various giveaways. Click here to check it out. You can always find this page in the footer of my blog under Angie's Pages.
Promotions
Thanks and have a day!
Hostess Code: GWHDQZYR
Use this Hostess Code and receive a free gift! (Please do not use the Hostess Code if your order is $150 or more). Click here to learn how to enter the Hostess Code.
If you would like to order Stampin' Up! product, please click on our signature below to visit my Online Store.