Online Workshop – Featuring Birthday Blooms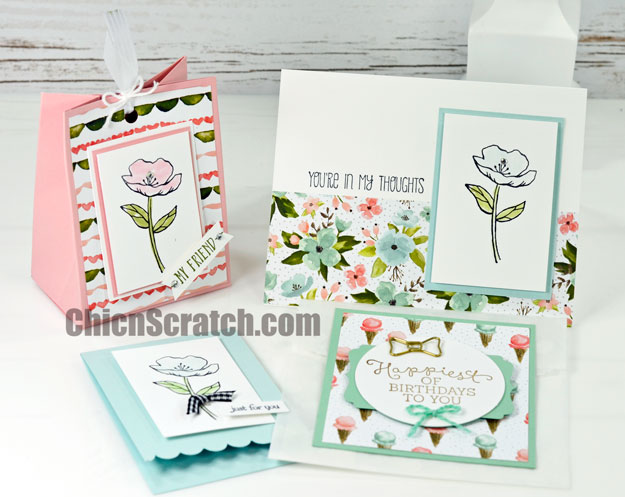 These are the projects we made last night during the Online Workshop.
The Live Stream went great and thank you to everyone that attended!!
I've filmed a cleaner video for you … and next week I'll post all the pictures and the Instructions (will include measurements and supply list).
Here's the Online Workshop Video Tutorial ….. Click HERE to watch the video on my Chic n Scratch website.
Ordering Incentive
Place a Stampin' Up! order of $50 or more using the Hostess Code: JJVQZFR3 and receive a Kit to make all three projects + a pack of Rhinestones.
The first 25 people that order will receive the Bonus Project (with Sky Soft) after 25 it will be a Vanilla card.
Instructions will be available in a PDF next week.
Deadline to order is Sunday, January 31st, 2016 at midnight.
If your order is more than $150 do not use the Hostess Code! If you place an order of more than $150 during the five day incentive period you will automatically receive the kit.
Minimum order of $50 is before tax and shipping.
January Video Tutorials Giveaway
In an effort to keep my office clear of duplicate projects I am giving away all the Video Tutorial projects to one customer …. we'll announce the winner next week (I mentioned this in one of my videos a few weeks ago). Here's a picture of the projects (I'm pretty pleased with all the projects I shared in the last 28 days).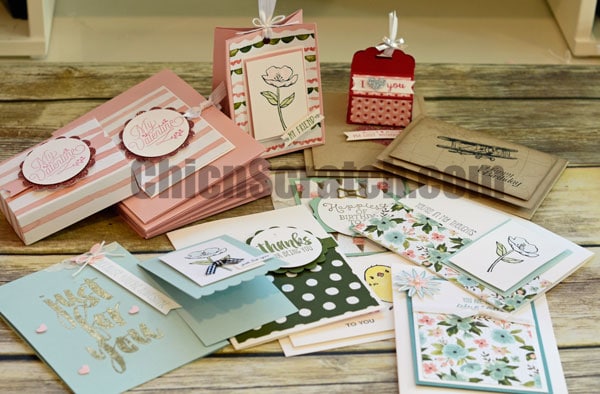 Thank you and have a wonderful weekend!!
p.s. I've got several videos lined up for early February and I'm working on getting those edited and the instructions typed for the Online Workshop.
Promotions
Sale a bration – Free product with every $50
Stamp Club Online – New groups starting every month … we need a few more members for the Hershey Kisses group to get started in February.
Craft Garage Sale – February 25 – 27th in Overland Park, KS
Hostess Code: JJVQZFR3
Use this Hostess Code and receive a free gift! (Please do not use the Hostess Code if your order is $150 or more). Click here to learn how to enter the Hostess Code.