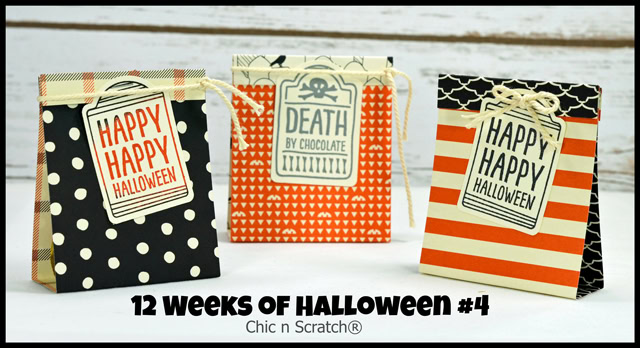 The Halloween Treat Holder is the 4th project for the 12 Weeks of Halloween.
I LOVED making this project because you can make several out of one piece of the Happy Haunting Designer Series Paper.
I used the Sweet Hauntings Stamp Set with the Very Vanilla Thick Bakers Twine .. and the awesome Stampin' Up! handheld Stapler.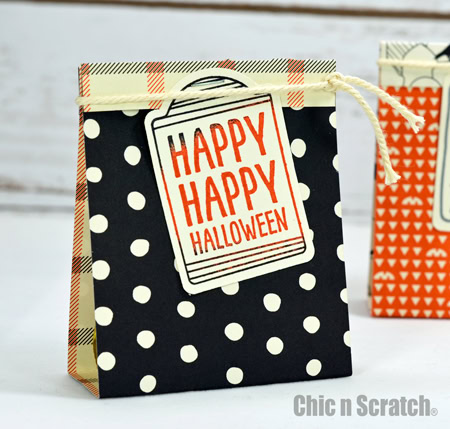 Here's a video on how to make the 12 Weeks of Halloween Week 4 …..CLICK HERE to watch the video on my Chic n Scratch website.
Stampin' Up! Supplies
Stamps: Sweet Hauntings 139702 (w) 139705 (c)
Ink: Basic Black 140931, Tangelo Twist 133646, Basic Gray 140932, Stazon 101406
Paper: Happy Haunting DSP 139584, Very Vanilla 101650
Accessories: Very Vanilla Thick Bakers Twine 138411, Glue Dots 103683, Paper Snips 103579, Stapler 139083, Staples 135847, Simply Scored Scoring Tool 122334, Note Tag Punch 135860, Stampin Scrub 126200, Stampin Mist 102394, Paper Piercer 126189
Measurements
Happy Haunting DSP: 8-1/2 x 2-3/4 – Score @ 1/2, 3-3/4, 4-3/4, 8
Very Vanilla: Note Tag Punch
How to cut your DSP to get five treat holders: Take a 12 x 12 piece of DSP and make your first cut at @ 2-3/4. Then cut that strip @ 8-1/2 (that's one treat holder). Then take the rest of the DSP and cut it at 8-1/2 … and then @ 2-3/4 … that gives you four more .. for a grand total of 5 Treat Holders.
Congrats Carolyn S ….. Your name was drawn to win the kit for Week #3. We've sent you an email … reply back with your mailing address so that we can ship your kit out asap.
Special Note. We had over 100 comments posted on Week #3 … but when my site was having work done last weekend some things were accidentally deleted. I had all the emails saved in my drawing folder, so you won't see Carolyn's comment on my blog … but she did post a comment. You can see it below.

If you attended the Holiday Catalog Live Stream last night …. we had so much fun ….Thank YOU!!

Promotions
September Thank you gift – Coming Soon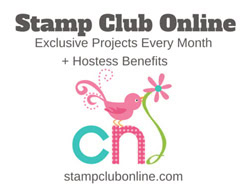 Thanks have a great day!
hostess Code: TFDTMBSS
Use this Hostess Code and receive a free gift! (Please do not use the Hostess Code if your order is $150 or more). Click here to learn how to enter the Hostess Code.