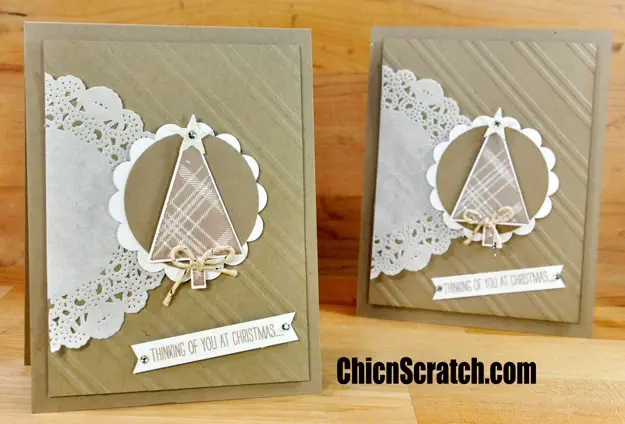 The card I'm sharing with you today is one I created for my Convention Swaps ….but then changed my mind. I went back and forth and for some reason I felt like it was off …. just a little …I still can't explain why.
I used Crumb Cake Card Stock with the Lots of Joy Stamp Set. The greeting can be found in the White Christmas Stamp Set.
I used a ton of punches … Tree Punch, Banner Punch, Itty Bitty Accents Punch Pack, 2″ Circle Punch and the 2-3/8 Scallop Circle Punch.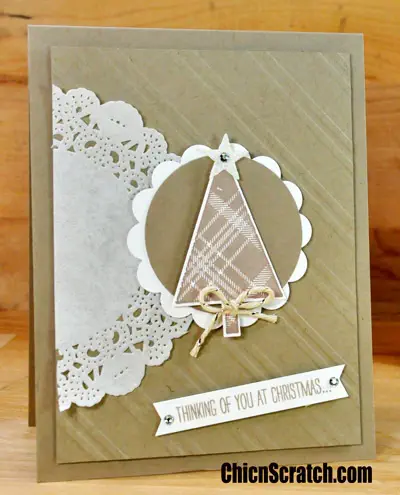 I'll share my final card after Convention … I really want to say I will share it next week while I'm at Convention … but computer time away from home … not an easy task!!
Here's a video on how to make the Lots of Joy Christmas Card ….CLICK HERE to watch the video on my Chic n Scratch website.
Stampin' Up! Supplies:
Stamps: Lots of Joy 138810 (w) 139468 (p), White Christmas 135767
Ink: Crumb Cake 126975
Paper: Crumb Cake 120953, White 100730, Dazzling Diamonds Glimmer 135315
Accessories: Doilies 129399, Banner Punch 133519, 2″ Circle Punch 133782, 2-3/8 Scallop Circle Punch 118874, Tree Punch 135859, Itty Bitty Accents Punch Pack 133787, Stylish Striped Embossing Folder 132174, Silver Bakers Twine 132976, Glue Dots 103683, Rhinestones 119246, Paper Piercer 126189
Blog Post email
I've had numerous people ask me why they're no longer receiving my blog posts in their email. I don't have the exact answer for you because each email program is different but I can help you rejoin (I never delete anyone!!).
There are two sign up boxes on the right side bar … the first one is my newsletter service and the 2nd one is for blog posts. If you want to receive the blog posts please use the 2nd box.
Special Note: The image below does not work .. you will need to use the box on the right side bar of my blog to sign up. Also … if you are receiving this in your email box … you're good!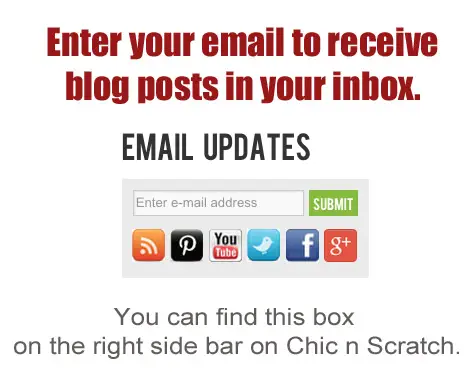 Kindle Fire
I know this is coming out of left field …. but …. I just had this crazy idea today and thought I would ask! What do you think about the August Giveaway Drawing being a brand new Kindle Fire? Feel free to be honest … it won't hurt my feelings. The reason I ask is because I LOVE my Kindle Fire so much!!! I have all my books and TV shows at my fingertips …. all the time. I gave my sister Kim her very first Kindle (and my mother in law) and Kim called me and said it was the best gift she's ever gotten in her life (yes we both cried).
Thanks & have a great day!
p.s. I'm not sure how much I will be able to post over the 10 days … I go tomorrow to get a shot for pain so that I can travel next week … I have to take it easy for 48 hours after the shot .. and then it's time to start packing. I'll do my best to check in on my Chic n Scratch Facebook page as often as possible. THANK YOU!!!
Promotions
Clearance Rack – check for new items every week!!
hostess Code: WYTWNSJT
Use this Hostess Code and receive a free gift! (Please do not use the Hostess Code if your order is $150 or more). Click here to learn how to enter the Hostess Code.