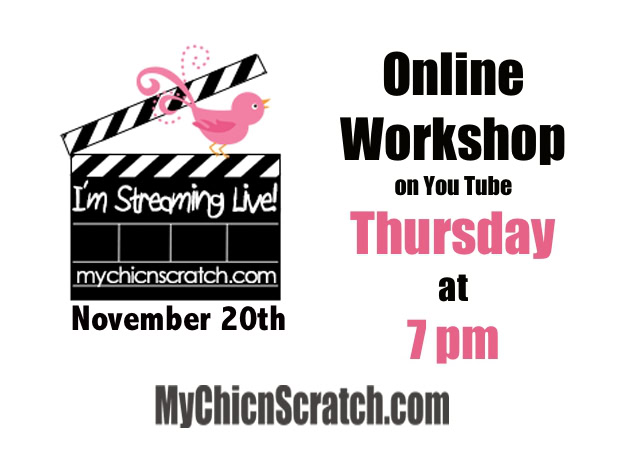 Tune in Thursday night at 7pm Central time to attend the November Online Workshop.
You can view the live stream with the video box that will be posted on my blog …. in Thursdays post.
To participate in the chat you will need to watch the video on You Tube and login to your free You Tube account (if you're watching the event on a tablet … you may or may not be able to participate in the chat).
The Online Workshop will work the same as last month … and here's the plan …
We'll start at 7pm and I'll say a quick hello and then jump right in to demonstrating the projects.
The live event will include:
Demonstration of projects
Explanation of how I choose those three projects.
Door Prize Form
Wish List
Ordering incentive – must use the Hostess Code that will be posted that day. (If your order is more than $150 please do not use the Hostess Code. Any order over $150 will automatically receive the kit to make all three projects.)
Prizes
I'll post the rest of the details on Thursday.
Thanks & have a wonderful day!
Promotions
Hostess Code: G79V679T
Use this Hostess Code and receive a free gift! (Please do not use the Hostess Code if your order is $150 or more). Click here to learn how to enter the Hostess Code.