I have a hodgepodge of things to share …. and we'll start with Blog Candy.
Leave a comment to enter to win the Watercolor Winter Simply Created Card Kit. I'll post the winner's name on Monday November 10th.
Update: Congrats Judy H …your name was drawn to win the kit … we've sent you an email on how to claim your prize.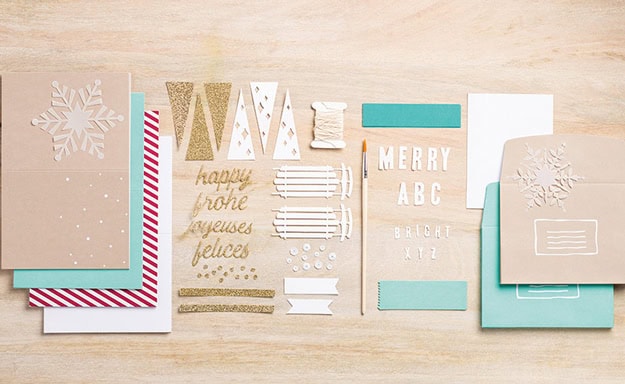 12 Weeks of Halloween Winners
Here's the list of winners (all of them have been sent an email). Congrats ladies!!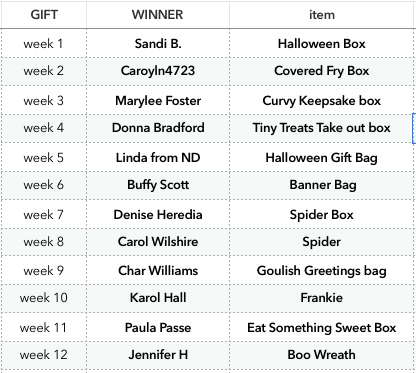 Online Workshop
If you participated in the September Online Workshop … your kits shipped yesterday. We discovered that we had sent the kits to the wrong group of ladies (oops). Laura and I feel really bad … and we're very sorry!! The positive side of that is you received an additional gift 🙂 For the ladies that received the kits in error … you are welcome to keep them.
The October Online Workshop kits also shipped yesterday.
I'm still not sure about the date for the November Online Workshop … as soon as I can set a date I'll post it.
12 Years ago
I joined Stampin' Up! on October 30th, 2002 and last Thursday marked my 12 year anniversary as a Stampin' Up! Demonstrator. I was talking to my sister Kim last night and I ask her what she thought was the answer to why I've been a demonstrator this long … and she said "you love the product". It's safe to say she is right … 12 years later I still love the product. The excitement of NEW Product can send me over the edge (meaning it makes me extremely happy).
For everyone that has supported me … Thank you from the bottom of my heart!! (After typing that .. I'm wondering what does from the bottom of my heart mean? … I must Google that!)
Retreat
I've not had a chance to go through the pictures and resize and edit them …but I do still plan on sharing them. For those of you that wanted to buy access to the projects .. I have the Make n Takes, the Pillows Gifts / Door Prizes and the Recipe Flip Book as an Online Class. But if you're a member of Chic n Clique you already have free access to them. I have two more classes that will be available just as soon as I can get the videos edited. Click here to see the list of Online Classes available.
I've not posted a write up about it … because I want to be clear that I'm only offering it because several of you ask very nicely if I would. I'm happy to offer it …and I hope you enjoy the projects.
Goals
You guys know I'm a firm believer in setting goals … in fact it's the one thing that keeps me on track. After achieving my goal to reach one million in sales by December 31st, 2014 … I'm left without a goal and I don't like it! I keep going back and forth … and my problem always come back to I need to be able to measure it. For example … let's say I want to double my sales .. that's something I can measure because I can look at the numbers. I've had two ideas ….
Sell $200,000 within the Stampin' Up! calendar year.
Double the number of members on Chic n Clique.
So, here's your chance to make a suggestion …. got any ideas?
12 Days of Christmas
I've had a few of you ask me when I'm starting the 12 Days of Christmas and what product I'm using. The answer is … I'm working on it. I've not felt good and I'm not sleeping and my productivity is way down. Every day I pray I'll wake up feeling normal again … but so far no such luck. But you know … the minute I do … it's game on!
Thanks & have a wonderful day!!
Promotions
November Thank You (coming November 10th)
Hostess Code: DMCUHZZS
Use this Hostess Code and receive a free gift! (Please do not use the Hostess Code if your order is $150 or more). Click here to learn how to enter the Hostess Code.