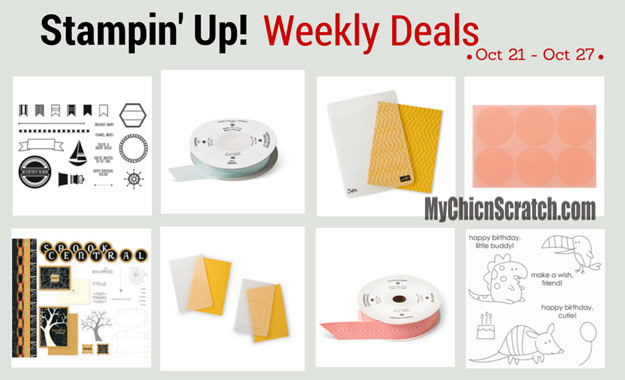 Here are the Stampin' Up! Weekly Deals:
Settin' Sail Photopolymer Stamp Set Item # 133453
Regular Price: $13.95
Discounted Price: $10.46
Jumbo Sticky Rounds Item # 127852
Regular Price: $4.95
Discounted Price: $3.71
Zig Zag Textured Impressions Embossing Folder Item # 133738
Regular Price: $7.95
Discounted Price: $5.96
Fun Frames Textured Impressions Embossing Folder Item # 133727
Regular Price: $8.95
Discounted Price: $6.71
Soft Sky 1/2″ Seam Binding Ribbon Item # 131210
Regular Price: $6.95
Discounted Price: $5.21
Calypso Coral 3/4″ Chevron Ribbon Item # 130018
Regular Price: $8.95
Discounted Price: $6.71
Little Buddy Birthday Wood-Mount Stamp Set Item # 133860
Regular Price: $21.95
Discounted Price: $16.46
Spook Central Designer Ensemble – Digital Download Item # 127589
Regular Price: $12.95
Discounted Price: $7.77
Thanks a Million!
I hit my One Million in career sales yesterday and for those of you that helped me reach it …
THANKS A MILLION!!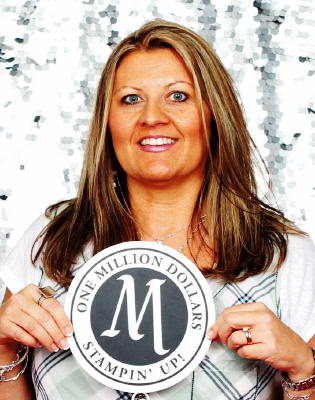 Finding the perfect words to express my gratitude is not an easy task. My journey as a Stampin' Up! Demonstrator has been a roller coaster ….and what a ride it has been …. I am thankful beyond words!!
I have more details to share …. and some winners to announce. As soon as I get the okay from the winners to post their name on my blog I'll share it (they have been emailed).
Are you wondering where I got that picture? When I was at Convention I told them my goal was to reach One Million by December 31st … and they gladly took my picture (thank you Stampin' Up!).
I'd like to end this subject with …..
If you have a dream or a particular goal … please share it with everyone you know. I am a firm believer that sometimes all it takes is BELIEVING.
THANK YOU again 🙂
World Series
Game 1 of the World Series between the Royals and the Giants is tonight …. and ….. Dave and I are going. If you're on Facebook … watch out I'll be posting pictures later this afternoon. I have always wanted to go to a World Series game and although I'm a die hard Braves fan I couldn't be more proud of the Kansas City Royals …. I'd love to see another sweep! (no flames please … I agree the Giants are a good team too… I just hope we are better!)
Here's another picture of Brooke this morning … supporting the Royals.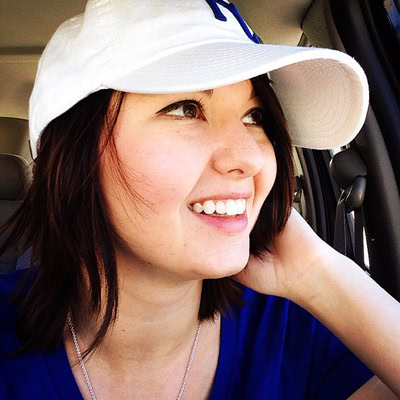 Have a wonderful day!
Promotions
Hostess Code: 7JKTF7QR
Use this Hostess Code and receive a free gift! (Please do not use the Hostess Code if your order is $150 or more). Click here to learn how to enter the Hostess Code.