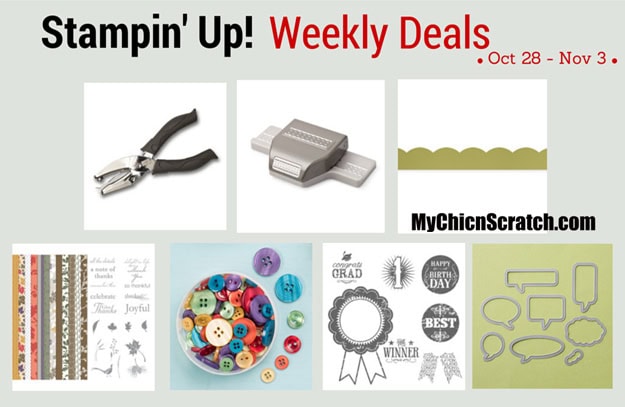 Here are the Stampin' Up! Weekly Deals:
Regals Designer Buttons Item # 130029
Regular Price: $7.95
Discounted Price: $5.96
Large Scallop Edgelits Die Item # 127019
Regular Price: $7.95
Discounted Price: $5.96
Dotted Scallop Ribbon Border Punch Item # 119275
Regular Price: $15.95
Discounted Price: $11.96
Blue Ribbon Wood Stamp Set Item # 131964
Regular Price: $28.95
Discounted Price: $21.71
Word Bubbles Framelits Die Item # 132968
Regular Price: $24.95
Discounted Price: $18.71
1/16″ Circle Handheld Punch Item # 134363
Regular Price: $8.95
Discounted Price: $6.71
Autumn Traditions Kit – Digital Download Item # 127600
Regular Price: $9.95
Discounted Price: $5.97
Personal Note: I saw my endocrinologist on Monday and she increased my thyroid medication … and I didn't even have to ask her. She had my blood results ready and said you need more. I thought I was worn out from the Retreat stuff ….turns out it was that I needed more medication. I'm kicking myself now because I should have recognized that feeling!!
The past month I've felt really tired, experienced major body aches and I've been very emotional. I was also thinking that maybe the shorter days (being fall) was making me tired. I spent all day Friday, Saturday and Sunday on the couch and told Dave on Monday that something was wrong and I was afraid it was something major. Silly me!
I'm sharing this because many of you share thyroid issues and it's a constant battle …. I've decided I need to start a daily journal of "how I feel" …. kinda like my gratitude journal! I'm on day two of increased meds … keeping my fingers crossed I start to feel normal again in a few weeks!!
Thanks & have a wonderful day!!
Promotions
Hostess Code: DMCUHZZS
Use this Hostess Code and receive a free gift! (Please do not use the Hostess Code if your order is $150 or more). Click here to learn how to enter the Hostess Code.