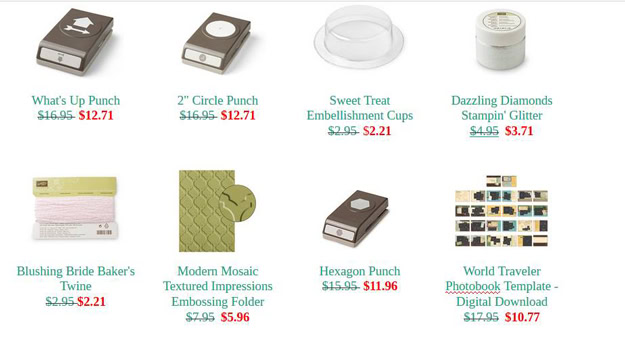 Here's the Stampin' Up! Weekly Deals:
2″ Circle Punch Item # 133782
Regular Price: $16.95
Discounted Price: $12.71
What'S Up Punch Item # 133781
Regular Price: $16.95
Discounted Price: $12.71
Sweet Treat Embellishment Cups Item # 116802
Regular Price: $2.95
Discounted Price: $2.21
Dazzling Diamonds Stampin' Glitter Item # 133751
Regular Price: $4.95
Discounted Price: $3.71
Blushing Bride Baker's Twine Item # 134577
Regular Price: $2.95
Discounted Price: $2.21
Modern Mosaic Textured Impressions Embossing Folder Item # 129984
Regular Price: $7.95
Discounted Price: $5.96
Hexagon Punch

Item # 130919

Regular Price: $15.95
Discounted Price: $11.96
World Traveler Photobook Template – Digital Download Item # 130066
Regular Price: $17.95
Discounted Price: $10.77
I'm sorry I didn't post yesterday … I wasn't feeling very well and not much of anything got done! I'm happy to say I woke up today feeling back to normal (and also even more behind than before!!).
Take another look at the Weekly Deals … one my Favorite punches is on sale … the 2″ Circle Punch. I use it every single day!!
August Online Workshop
If your name was drawn to win a prize during the Online Workshop in August … they have shipped and you should receive them in a few days.
If you placed an order using the Hostess Code for the Online Workshop … that order arrived yesterday and Laura (my assistant) took the supplies home today to started cutting .. the kits will ship in the next few days and you'll receive an email that includes a link to the instruction sheets.
The next Online Workshop is scheduled for September 26th, 7pm central time.
Stamp Club Online
We need a couple more members to wrap up the Smarties group. Click here for more details.
iPhone 6 and iPhone Plus

You already know I'm a Apple fan … so I decided to share with you the latest news posted today. YES! The iPhone 6 will be available in two sizes (4.7 or 5.5). You can check out the Apple website for all the details. I just wanted to say that I plan on getting the iPhone 6 Plus! (and yes I listened to the entire announcement today … Apple Watch and all).
I will do my best to get a project posted tomorrow but no promises … we are in the process of assembling the door prizes/pillow gifts for the Retreat and it's taking way more time than I anticipated.
Thanks & have a great day!
Promotions
September Thank You (coming soon)
Hostess Code: NJE3FUZW
Use this Hostess Code and receive a free gift! (Please do not use the Hostess Code if your order is $150 or more). Click here to learn how to enter the Hostess Code.