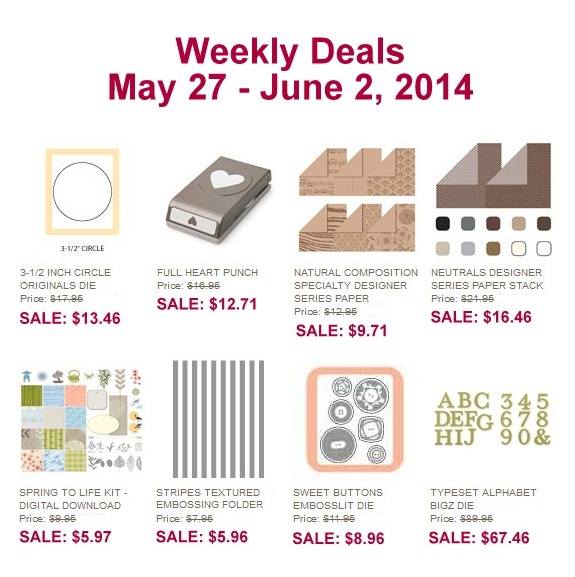 Here are the Stampin' Up! Weekly Deals:
Neutrals Designer Series Paper Stack Item # 130132
3-1/2 Inch Circle Originals Die Item # 121811
Sweet Buttons Embosslit Die Item # 121813
Natural Composition Specialty Designer Series Paper Item # 126917
Full Heart Punch Item # 119883
Typeset Alphabet Bigz Die Item # 127553
Stripes Textured Impressions Embossing Folder Die Item # 123128
Spring To Life Kit – Digital Download Item # 133026
Blog Candy … didn't happen. I'm really sorry I posted last week that I was going to post some blog candy on my blog over the weekend and then I didn't. I'd like to explain … I had a really good customer remind me that many people were out of town and it wasn't fair… that I should wait. So, that's what I did. I appreciate that she knows me well enough to tell me.
I still have the basket of goodies and what I'll do is post it for next weekend … turns out it will better anyway because I'll be a total basket case and will need all your lovely comments.
Brooke is leaving for Paris on Saturday and yes she is very fortunate …what an opportunity!! We are very proud! But on the other hand my baby is going somewhere far far away. Dave reminds me all the time I'm overly dramatic and he's right …but I am who I am.
When my assistant came in to work today and I told her about my two hour cry fest last night. Truth be told I was watching the Bachelorette and when they had Eric on the screen I couldn't help but cry … and then it made me think of Brooke leaving …. so two hours later I had cried myself to sleep. (Don't tell her!) So, when I was telling Laura I said "I need something to distract me for at least 48 hours" …… and it came to me … I'm going home. Brooke's flight leaves at 10:15 for Paris and mines leaves at 10:35 for Tennessee. Being with my family will be just what I need … zero alone time to think about Brooke not being here.
The next couple days I'lll share some swap cards or some cards sent to me and then next week I'll be placing my order on June 2nd for new product. My question is … do you want me to do a Live Stream on June 2nd when the catalog goes live or wait until I get the new product in my hands … or do both? I could do a live stream on Tuesday (June 3rd) and then another. Let me know your thoughts.
One more question before I stop … have you subscribed to my Chic n Scratch facebook page? If not, click here and be sure to click on the Like button so you will continue to see my posts (for example I'm posting a picture later today of my downline kits that are shipping this week).
One more quick note … I've had a few ladies ask me why haven't I been stamping (they ask nicely) … I have been … but it's been for Stamp Club Online and Chic n Clique. When I'm off work for a week or two .. it takes me a long time to get caught up. I used to get very stressed about not posting a project every week …. I don't anymore because the majority of you know that when the new catalog product gets in my hands … it will be game on .. until next spring (I always hit a slump in April & May).
Thanks and have a great day!!!
Hostess Code: P79REFCC
Use this Hostess Code and receive a free gift. (Please do not use the Hostess Code if your order is $150 or more).