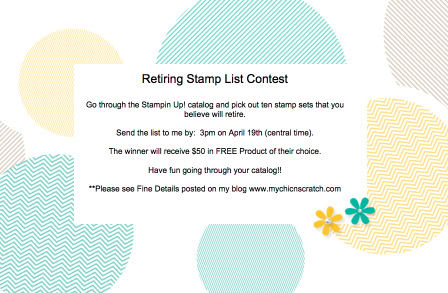 Update April 21st: Congrats Carrie Naley and Marianne Voss!! You both guessed 8 right and I've decided that both of you will get $50 in free product of your choice. Congrats!!
It's that time of year .. the Retiring Stamp List will be available next Monday, April 21st.
And for the first time ever … all Stamps and Accessories will be available While Supplies Last. This is major!!!
Go through the Stampin Up! catalog and pick out ten stamp sets that you believe will retire (please do not include stamps in the Occasions Catalog).
Send the list to me by: 3pm on Saturday, April 19th (central time).
The winner will receive $50 in FREE Product of their choice (if there's a tie .. the person that emailed me first will be the winner).
Here's the fine details:
Contest is for my customers only (Stampin' Up! Demonstrators may not enter).
If you've placed an order with me in the last 12 months you are considered a customer.
email your List to: angie@mychicnscratch.net and please use "contest" in your subject line of your email.
Late entries will not be accepted.
If the retirement list is posted early we reserve the right to end the contest.
Have fun going through the catalog!
Blog Candy
Congrats Johnnie Sexton you won the Blog Candy!! We used Random Generator to pick the winner (number 199). I'm very sorry to hear about your sister!!!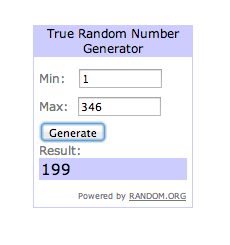 Hostess Code: CRE4WZAJ
Use this Hostess Code and receive a free gift. (Please do not use the Hostess Code if your order is $150 or more).