Sale a bration ends at midnight on Monday.
And …. I'll be out of town the rest of the week ….. so ….. I'm going to share some swaps I received from some other Stampin' Up! Demonstrators.
Today I'll share two real quick and the first one is from one of my downline girls .. Leslie.
Isn't her card super cute?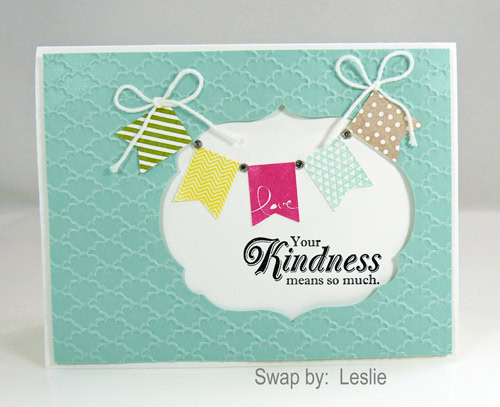 She used the Banner Blast Stamp Set (133551 wood – 133554 clear) along with the Banner Punch (133519) .. both are on page 13 of the Sale a bration Catalog.
The next card is from Denise and she also used the Banner Blast Stamp Set with the See ya Later Stamp Set (133533 wood – 133536 clear) on page 16.
She told me that to make the line at the top .. she used a CD. Good idea!!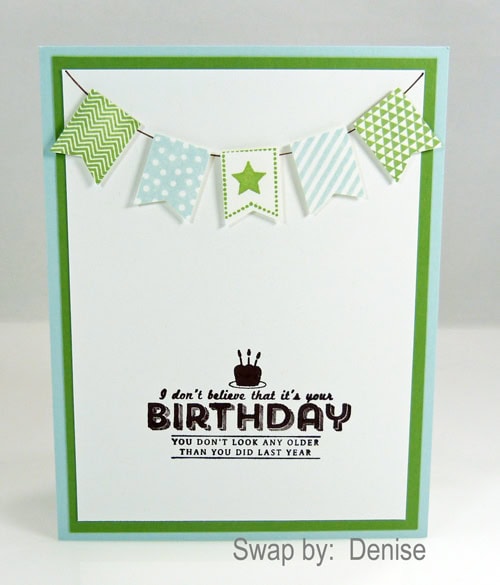 Thanks for all the well wishes for my mother!! It's really hard because I'm 600 miles away and I could cancel my trip to the stamp retreat … but then I'd lose the money. So, I'm headed to the stamping retreat and my sisters will keep me updated. Decisions like this are always difficult. If it were life or death I would head to Tennessee but the doctors think that they can do the other surgeries once she recovers.
Thanks & have a wonderful weekend!!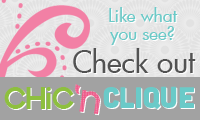 Hostess Code: XXTGPTWE
Use this Hostess Code and receive a free gift. (Please do not use the Hostess Code if your order is $150 or more).