In honor of my Birthday today I'm sharing How to make a Gift Bag. Isn't it so beautiful?
Before I go in all the details of my Gift Bag … I'd like to announce my brand new site …
I have wanted my own forum for years and I'm happy to say it's official … Chic n Clique has officially launched.
If you're been following my blog for a while you know I have a goal to reach a million in career sales by the end of 2013 (it's a huge stretch). One of the reasons is … the bonus that comes from that was earmarked to start a forum. But … my husband decided that he would front me the money to get it going sooner rather than later. Some days I don't know what I did to deserve him!!
I could rattle on forever about how it all came to be but …. I'll stop here and save some for later. Or you can tune in to my LIVE stream on UStream tonight at 8pm (central time) to hear all the details …. and we may stamp. (I've only had four hours of sleep.) Click here to login to UStream tonight.
Back to the Gift Bag …. I used the In Color Designer Series Paper Stacks and you'll need two pieces that measure 8 x 8.
I love how the Starburst Sayings Stamp Set and Framelits looks with the Paper Doilies!
I decided after making three of them that I'm sending Gift Bag Kits to my downline. (Any downline that places an order in March will receive a kit to make one of these in April … and yes we've already started cutting.)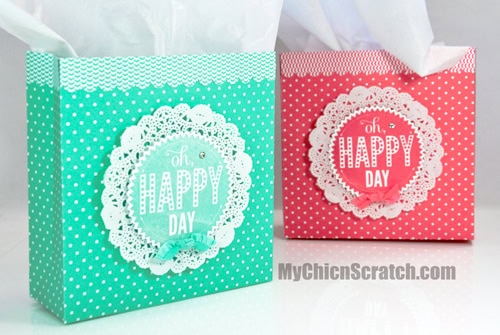 Here's the video on how to make a Gift Bag:
If you're reading this blog post in your email (via google) please visit My Blog to watch the video.
Click here to download the Project Supply Sheet
Stampin' Up! supplies:
STAMPS: Starburst Sayings 133182 (w) 133185(c)
INK: 131175 Coastal Cabana
CARD STOCK: 130136 In Color DSP Stacks, 100730 Whisper White
ACCESSORIES & TOOLS: 130024 Coastal Cabana Ruffle Trim, 132967 Starburst Framelits, 103683 Glue Dots, 104294 Rhinestones, 104294 Sticky Strip, 122334 Simply Scored Scoring Tool, 104430 Dimensionals, 113439 Big Shot, 130658 Magnetic Platform, 102300 Bone Folder
MEASUREMENTS: In Color DSP: 8 x 8 Score at 1/2, 1-1/2, 2-1/2 Turn and score @ 1-1/2 on one and 1" on the other end. Whisper White: Scraps for stamping
A Big THANK YOU goes out to Veronica at VK Design Company for getting my graphics in order for my new site…. and don't you love my new banner on this site? If you join Chic n Clique … the first few videos did not have graphics … but the rest of them do … so when you're watching them you'll know which ones were filmed before I had graphics. I had to make a decision do I go for it or wait on everything to be perfect…. I decided to go for it!
I hope I see you on my live stream tonight … if not have a wonderful day.
Thanks!
p.s. I'll post the Weekly Deals tomorrow!
Hostess Code: XPK79TGU
Use this Hostess Code and receive a free gift. (Please do not use the Hostess Code if your order is $150 or more).