Stampin' Up! Foil Sheets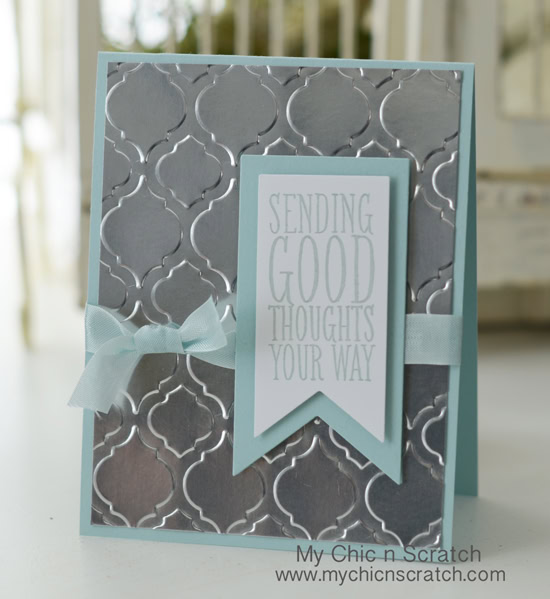 I'm super excited to share with you my Foil Sheet card!!
If you attended my live stream on UStream last week …. I shared this card with you … along with a promise that I would make a video for you. I'm happy to say it's ready!
Before we talk about the card … I need to say … how could I have not used these Foil Sheets during the holidays. I must have been hiding under a rock .. LOL I'm obsessed with them now and I'm currently working on a box. The only catch is … they are difficult to take pictures of ….. because the light reflects.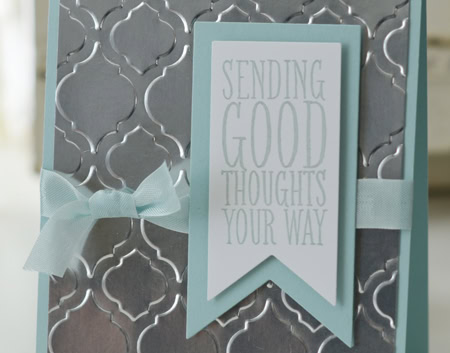 The base of this card is Soft Sky card stock (11 x 4-1/4 – scored at 5-1/2).
The next layer is the Foil Sheet 5-1/4 x 4) and I embossed it with the Modern Mosaic Embossing Folder. I'm kicking myself that I totally forgot to use the Texture Boutique Embossing Machine … maybe next week.
You can wrap the Soft Sky Seam Binding around the Foil Sheet or the whole card like I did.
I used the Perfect Pennants Stamp Set with the Banner Framelits …can you tell those Framelits are my most favorite right now?
Here's the video on how to make the Foil Sheet Card:
If you're reading this blog post in your email (via google) please visit My Blog to watch the video.
Click here to download the Project Sheet.
Stampin' Up! supplies:
STAMPS: Perfect Pennants 133227 (w) 133230 (c)
INK: 126982 Pool Party
CARD STOCK: 131203 Soft Sky, 132178 Foil Sheets, 100730 Whisper White
ACCESSORIES & TOOLS:
132173 Banner Framelits
129984 Modern Mosaic Embossing Folder
131210 Soft Sky Seam Binding
104430 Dimensionals
113439 Big Shot
130658 Magnetic Platform

One Sheet Wonder Class and Mailing List
I'm happy to report that all the videos are loaded and all I have left is to type the instructions.
If you are on my NEW Mailing list you will automatically receive this class for FREE.
Click here to join my new mailing list (if you have not done so already).
If you read my newsletters (from my mailing list) on your cell phone … it is very easy to unsubscribe by accident. Just a note to be careful when clicking on things in the mobile version. I accidentally did this myself over the weekend and I was freaking out trying to figure out how to resubscribe.
UStream Project
The cute bag we made during the live stream has been recorded and will be available in the next few days. When it's available I'll release both the UStream and You Tube version.
Thanks & have a great day!!
Congrats Sharon! … your name was drawn to win the Foil Sheets Card. Please email my assistant at admin@mychicnscratch.net and we'll get it shipped out asap.