How to make a Card in a Box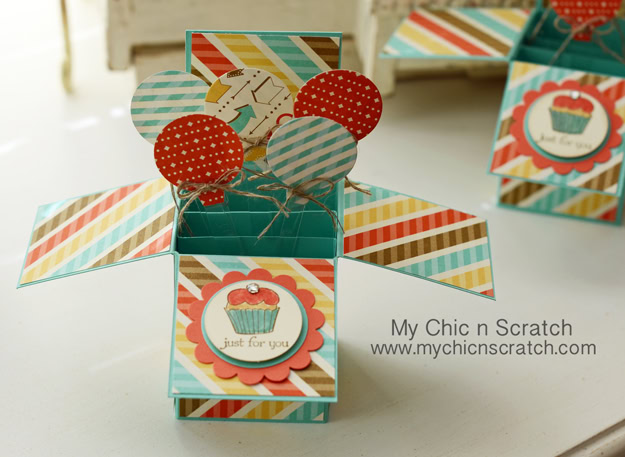 This is the project we made during my live stream on Saturday …. a Card in a Box.
I've had several requests to demonstrate how to make these and to be honest I was a little intimidated because of all the steps …. But … it's not as hard as I thought! In fact it's not hard at all … it's just a little time consuming …but very worth the effort!
Here's a picture of how it really does fold flat to mail in an envelope.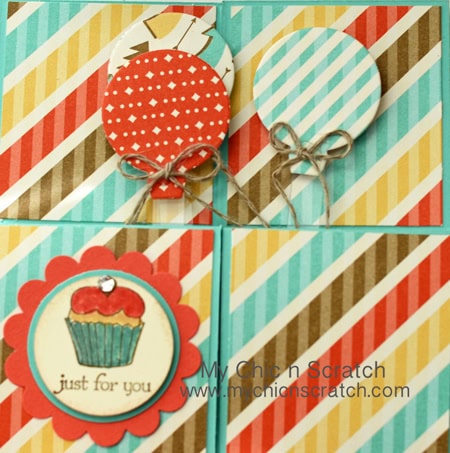 After my One Sheet Wonder Class I'm still hooked on the Retro Fresh Designer Series Paper so it was an easy choice to start with it.
We used the Teeny Tiny Wishes stamp set along with Another Great Year stamp set. And …. the balloons were made with the Holiday Ornaments Framelits (yes, they are available). Item #127816
You will use Window Sheets to hold the balloons (3 x 1/4) or we decided you could also use toothpicks, coffee stir sticks, or you can cut up a old stamp case (but be careful … sharp edges) or you could use transparency sheets … just make sure they are really thick .. otherwise they'll flop over.
Instead of listing all the measurements on my blog I've added them to the Project Supply Sheet (it's posted right under the video). Did you know I've been including those with every project that has a video since January? Here's an example ….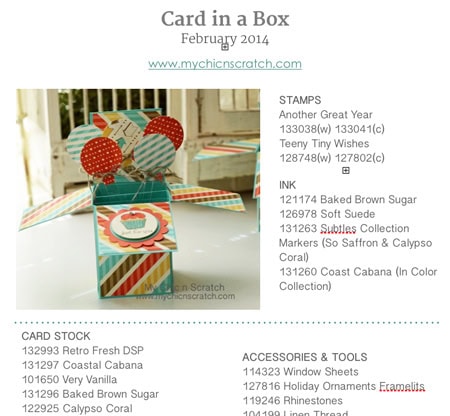 Here's the video on how to make the Card in a Box:
If you're reading this blog post in your email (via google) please visit My Blog to watch the video.
Click here if you would like to watch the Live Stream version of this box being made on Saturday (video is over an hour long).
Stampin' Up! supplies:
Stamps: Another Great Year 133038(w) 133041(c), Teeny Tiny Wishes 128748(w) 127802(c)
Ink: 121174 Baked Brown Sugar, 126978 Soft Suede, 131263 Subtles Collection Markers (So Saffron & Calypso Coral), 131260 Coast Cabana (In Color Collection)
Card Stock: 132993 Retro Fresh DSP, 131297 Coastal Cabana, 101650 Very Vanilla, 131296 Baked Brown Sugar, 122925 Calypso Coral
Accessories: 114323 Window Sheets, 127816 Holiday Ornaments Framelits, 119246 Rhinestones, 104199 Linen Thread, 119861 1-1/4 Circle Punch, 119860 1-3/8 Circle Punch, 119854 1-3/4 Scallop Circle Punch, 103683 Glue Dots, 104294 Sticky Strip, 126189 Paper Piercer, 122334 Simply Scored Scoring Tool, 126889 Stampin' Trimmer, 101610 Sponge, 104430 Dimensionals, 113439 Big Shot, 130658 Magnetic Platform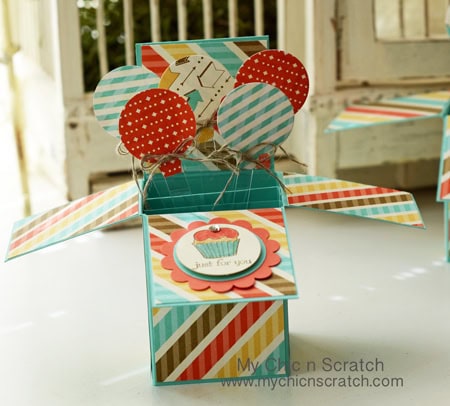 Thanks & have a great day!
Congrats to these people … their names were drawn to win a free pack of Rhinestones after the Live Stream on Saturday. (If your name is listed please send me your address.
Damar Osica
Dori T
Susan Timchack
Charlene Carlos – won a Stampin' Up! ruler
February Hostess Code: XPK79TGU
Use this Hostess Code and receive a free gift. (Please do not use the Hostess Code if your order is $150 or more).

Congrats NanaMay! … your name was drawn to win the Card in a Box. Please email my assistant at admin@mychicnscratch.net and we'll get it shipped out asap.