How to make Homemade Bath Salts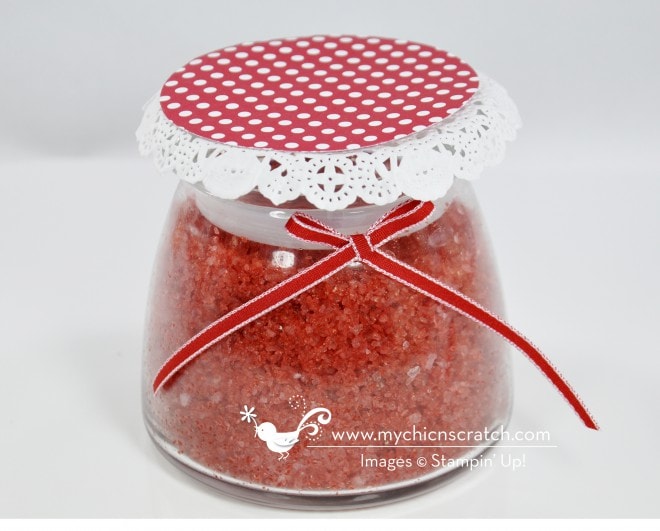 My blog post today is on how to make Homemade Bath Salts.
I used the Peppermint Bath Salts in one of my projects for our Handmade Gifts Class that starts tomorrow and I'm sharing the recipe with everyone.
Peppermint Bath Salts Recipe
1 cup Epsom Salt (250 grams)
1/2 cup Sea Salt (125 grams)
1 Tablespoon Baking Soda
1 Tablespoon Light Olive Oil (or Almond Oil)
5 – 10 Drop of Peppermint Oil
Red Food Coloring
Here's a video on how to make Homemade Bath Salts ….
I found this jar at Hobby Lobby and the decoration is really simple .. I just added a Lace Paper Doilie to the top and then added a circle cut out of the Polka Dot Parade DSP.
Stampin' Up! supply list:
Tea Lace Paper Doilies 129399
Polka Dot Parade DSP 126902
Real Red Taffeta Ribbon 119251
Glue Dots 103683
The is the perfect gift to give someone during the Holiday Season!! During the cold weather we always add something to our bath water to help with out dry skin.
If you're looking for more Handmade Gifts to give this Holiday Season check out our Handmade Gifts Class with Chic n Scratch & Pootles. Click HERE for all the details. It starts tomorrow at 8am CST (2pm GMT).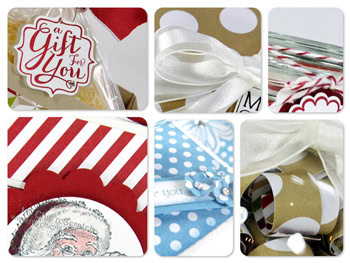 Current Specials & Promotions
Here's a picture of the Bath Salts in action … when the water is running ….it's quite pretty. Once it stops … well it sorta looks like a scene from CSI or Criminal Minds…. LOL You could always leave out the Red Food Coloring (or add less of it).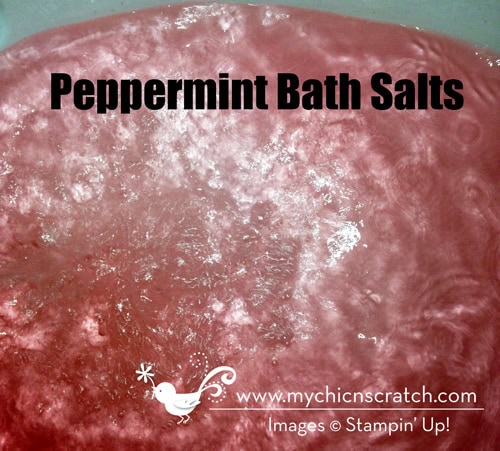 Thanks & have a great day!