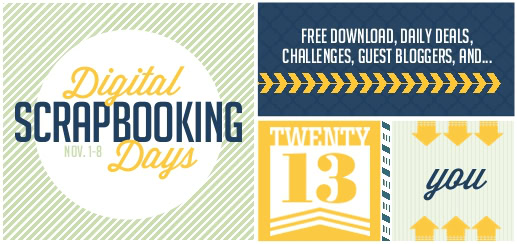 It's Digital Scrapbooking Day on Saturday, November 2, 2013.
But one day just isn't enough, so we're celebrating for eight!
Here's the list of daily deal downloads:
11/1 Amped Up Ampersands Kit
11/2 Hello There Kit + FREE Moments Ago Stamp Brush Set
11/3 All Time Fave Photobook Template
11/4 Modern Medley Overlays Kit
11/5 Be Brave Pocket Cards
11/6 Nobody's Business Photobook Template
11/7 Autumn Traditions Kit
11/8 Afternoon Daydream Kit
CONGRATS MICHELLE A. your name was drawn to win a Big Shot Die Cut Machine and I've sent you an email on how to claim it.
Hostess Code: NJKTTV6H
Click HERE to learn how to use the Hostess Code and win FREE Stampin' Up! product.