Trick or Treat Boxes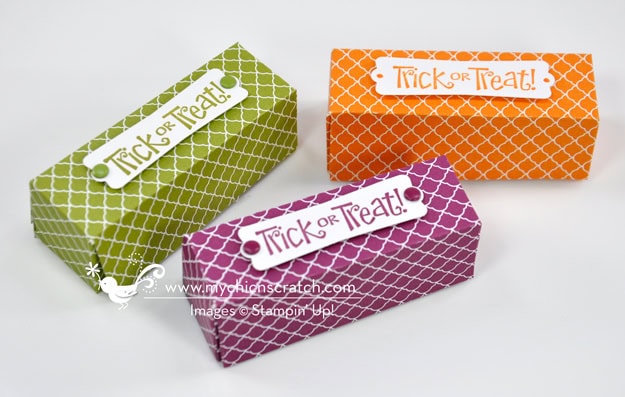 My project today is what I'm calling a Trick or Treat Box … they're so easy to make that you can pass them out to all your Trick or Treaters!
I used the Best of Halloween stamp set and do you see those daring Candy Dots? If you don't have the Candy Dots you can always use your markers (notice the Pumpkin one).
This Teeny Tiny Box will hold a snack size Kit Kat Bar …and I do mean snack size… or it will hold three Hershey Kisses. Here's a look at the inside …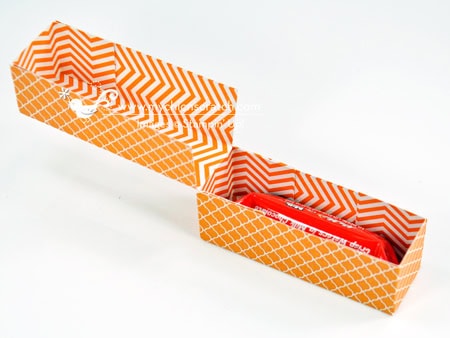 Here's a video on how to make the Trick or Treat Boxes.
If you've reading this blog post in an email please visit my blog to see the video.
Stampin' Up! supply list:
Stamps: Best of Halloween 134381
Ink: 126950 Rich Razzleberry, 126953 Old Olive, 126945 Pumpkin Pie
Card Stock: 130134 DSP Stacks – Bright Collection, 100730 Whisper White
Accessories: 126889 Stampin' Trimmer, 130931 Candy Dots, 126189 Paper Piercer, 124294 Sticky Strip, 119849 Modern Label Punch, 104430 Dimensionals
Optional Markers: 120970 Rich Razzleberry, 100079 Old Olive, 105115 Pumpkin Pie
Do you sometimes wonder if I pass out stuff like this? The answer is yes … in the years past ….. I would have special treats for the kids on our street (at one time we had 35). We've given out full sized candy bars …. and one year I passed out homemade cookies (I stay away from that now because I personally want to eat the whole batch).
I'm also the neighbor that wore a costume every year … would you like to see some pictures of years past? Maybe that would be a good post for Halloween day!
Now that Chase and Brooke are young adults … I've lost my spark …. but as we all know things tend to circle back around.
Wow, I just wrote you a short story … I could hit delete… but … I won't. LOL
Live Stream on UStream
I'll be streaming live tonight at 6:30pm central time. We'll go over any questions that you may have about joining Stampin' Up! for $25 (tonight is the deadline) and then we'll make a little stamping project (it could be two hours or it could be one …. depends on the questions). Click HERE to head over to my UStream channel. And if you're on my Chic n Scratch Facebook page I'll post a reminder this afternoon.
Congrats Dena Cline!! Your name was drawn to win the 12 Weeks of Halloween Week #10. Please email me your address. Here's Dena's comment …

Congrats Diane Miller!! You used the Hostess Code last week and your name was drawn to win $155 in FREE product of your choice.
Thanks & have a great day!!
p.s. THANK YOU to the very kind remarks Sam and I have received on our Holiday Class. We are thrilled that you LOVE the projects!!
Hostess Code: D7WYVWAU
Click HERE to learn how to use the Hostess Code and win FREE Stampin' Up! product.