Stampin' Up! Frankie Box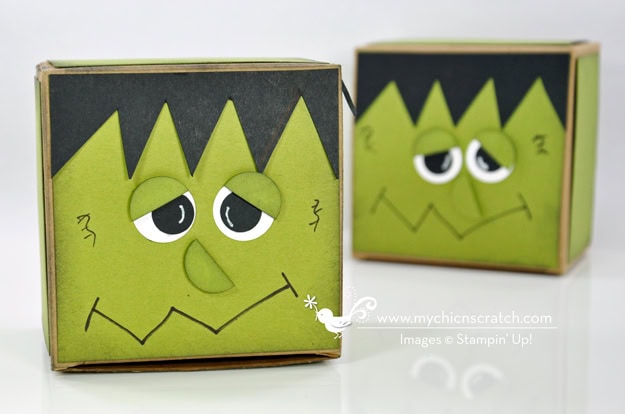 My project today is a Frankie Box and every year I make one of these guys.
This year I decided to use our Kraft Boxes … because if you're a last minute person like myself … you can make these really fast!
I used the 3/4 Circle Punch for the Old Olive Card Stock and the White ….. and I used the 1/2 Circle Punch for the Black card stock.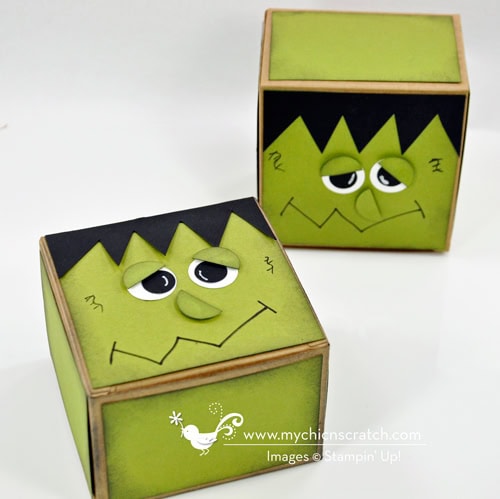 Here's a video on how to make the Frankie Box.
If you're reading this blog post in your email box please visit my blog to see the video.
Stampin' Up! supply list:
Ink: 126981 Basic Gray
Card Stock: 100702 Old Olive, 121045 Basic Black, 100730 Whisper White
Accessories: 124106 Kraft Boxes, 100425 2 Way Glue, 3/4 Circle Punch 119873, 104430 Stampin Dimensionals, 1/2 Circle Punch 119869, 101610 Sponges, 105021 White Gel Pen
Congrats Janell Singer and Michelle Pranger!!
You both used the hostess code last week and your names were drawn to win the Hostess Benefits. Michelle you won $115 in free product and Janell you won $145 in free product of your choice.
Congrats Emily Lin and Johnnie Sexton!! Your names were drawn to win the Envelope Treat Pocket.
Personal Note
If you tried to reach me towards the end of last week … I'm really sorry! I was sick with a stomach bug and I was in bed for three days. Holy Cow am I glad that's over! I seriously thought on Saturday I was going to have to go to the ER … but I woke up Sunday feeling much better. As you can imagine … since I was in bed .. I'm terribly behind on email. But … I will do my best to get to the important ones quickly. If you have an urgent matter please email me again!! I do need a favor … please use a term in the subject line that relates to what you need. I can get through them much quicker!!!
Over the next couple days I'll be sharing some Halloween Swaps that I received (either from Convention or Founders Circle).
Thanks & have a great day!
Hostess Code: M2XE9M3E
Click HERE to learn how to use the Hostess Code and win FREE Stampin' Up! product.