25% off Stamps plus Cut & Ready
Dates: October 22-28, 2013
Get 25 percent off 25 stamp sets.
We're celebrating Stampin' Up!'s 25th anniversary all year long!
During the week of the actual date (October 25th to be exact) we thought we should pump up the party even more. So what better way than a sale on the very products that started it all: stamps, of course!
Click here to download the list of stamps.
Cut & Ready Card Bases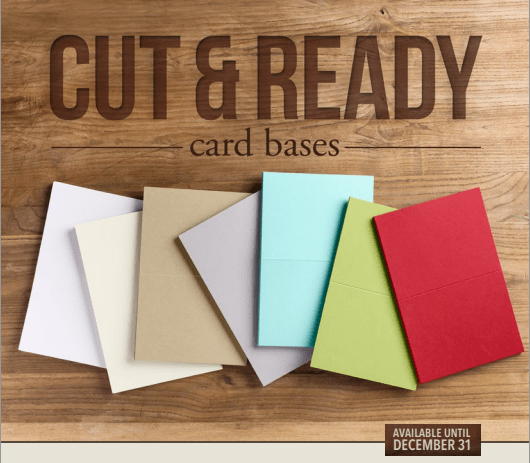 The holidays are approaching at lightning speed . . . relax, we're here to give you a hand.
Through December 31, we're offering a new trial product-our Cut & Ready Card Bases. These pre-scored, pre-cut card bases will make it easy for you to create a stack of cards in no time-or even just a card or two. Think of it . . . holiday cards, thank you cards, party invitations, and more in a snap! (We can hear you breathe a sigh of relief.)
The Perfect Holiday Solution for You!
Card Bases are available in a variety of colors for any occasion or creative whim. We've chosen these colors to coordinate with the holiday catalog Designer Series Papers-to make it even easier to get those holiday cards done.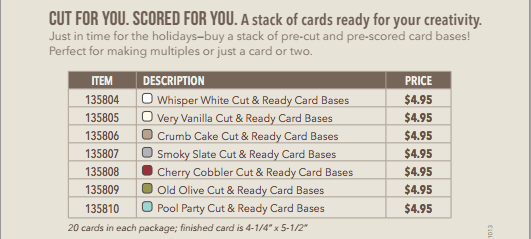 Each Card Base package contains:
20 pre-scored, pre-cut cards in one color
Each card measures 5-1/2″ x 8-1/2″-scored at 4-1/4″.
Finished card size is 4-1/4″ x 5-1/2″. (Card Bases are packaged flat.)
Join Stampin' Up! for $25
It's been extended until 11:50pm tonight (mountain time).
HOliday Class Thank YOU!
Sam and I just want to say thank you so much for all the compliments on our Online Holiday Class! We focused on sharing some super cute projects and we knew we loved them … and we are tickled that you do too! So much so … that we are already discussing the next one!! (You know what that means … stay tuned!!)
Thanks & have a great day!
Hostess Code: D7WYVWAU
Click HERE to learn how to use the Hostess Code and win FREE Stampin' Up! product.