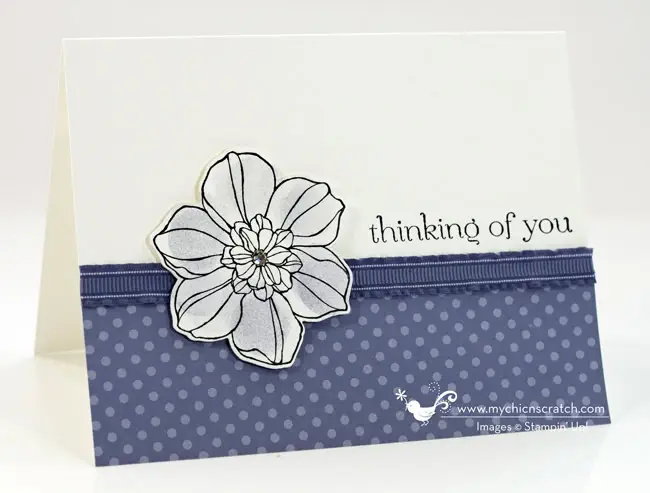 My card today is the 2nd card for my Stamp Kit of the Month for April.
Our stamp set this month is Secret Garden and I LOVE all three cards we make this month!!
I'll be honest …. when I first saw this stamp set .. I thought I could live without it. I was like a few of you and said I have a bunch of flower sets. But the reason I like this one is all you have to add is a little color and it looks good. (I'm kicking myself I didn't order it earlier!)
Here's how to make this card …
Attach DSP to the bottom of the card.
Add Wisteria Wonder Ruffled Ribbon using Snail Adhesive.
Stamp greeting from Sweet Essentials Stamp Set with Black Stazon ink.
Stamp flower with Black Stazon ink and use a Sponge Dauber to add the Wisteria Wonder ink.
Cut the image out with the Secret Garden Framelit and add to card with a Stampin Dimensional.
Add Rhinestone to center of flower.
Here's a video on how to make this card …..
Click here if you'd like more information about Stamp Kit of the Month.
Note from Angie
Thanks for all the well wishes!!! I'm happy to report I feel better. I'm not back to normal by any means .. but I've been able to sleep for two nights in a row. SLEEP is a wonderful thing!!! From what everyone has said .. I guess the congestion will stick around a while .. but I can deal with that!! Thanks again for all your patience!!!
Brooke's 19th birthday was on Saturday and I feel awful that I was sick! She knows I'll make it up to her (hopefully soon).
I'll do my best to get caught up and do some Stampin!!!
Thanks & have a great day!!
p.s. This video was filmed weeks ago .. before the announcement of the new colors .. I may have said Wisteria Wonder was retiring … if I did .. it's not .. it will become one of our new permanent colors.