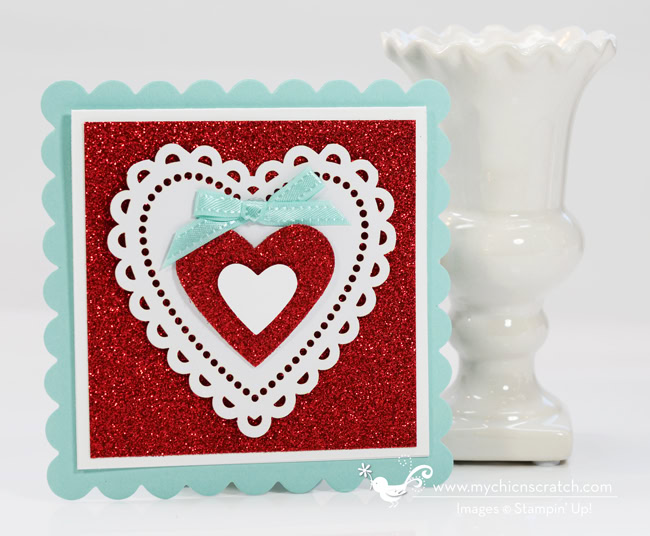 One of the perks of being a Stampin' Up! Demonstrator is sending and receiving hand made cards!!! I announced a special swap in my newsletter last week and I love how happy it makes you!! (I'm the same way when I receive a card!)
I received today's card from Jill last week and I just had to share it with you!! Funny thing is .. I had just made a Scallop Square Card myself and was saving it to share with you this week. (Mine is using the Oh, Hello Stamp set and was another reject for my Stamp Kit of the Month.)
I LOVE making the Scallop Square cards and if you'd like to see how to make them I have an older video to share with you. Click here to go there now.
On Jill's card …she used the Red Glimmer Paper along with Pool Party card stock. The base of the card was made using the Scallop Square Die and the Big Shot Die Cut Machine.
The Scallop heart you see isn't from the Hearts a Flutter Framelits … it's actually the More Amore Designer Series Paper (the other side of it).
She also used the Full Heart punch .. as well as the Sycamore Street Ribbon from the Sale-a-bration Brochure.
Now to the next subject ..
TOMORROW!
I'm releasing a program that's been in the works for almost three months. You know I'm not a patient person .. I usually jump in with two feet and sink or swim. But the program tomorrow … all the t's are crossed and all the i's have dots. I'm so excited!!! I'm positive I won't get any sleep tonight …. It's a good thing Dave is out of town….and that the Bachelor will be on!! At the very least I'll have two hours of a distraction!!
Thanks & see ya tomorrow!!