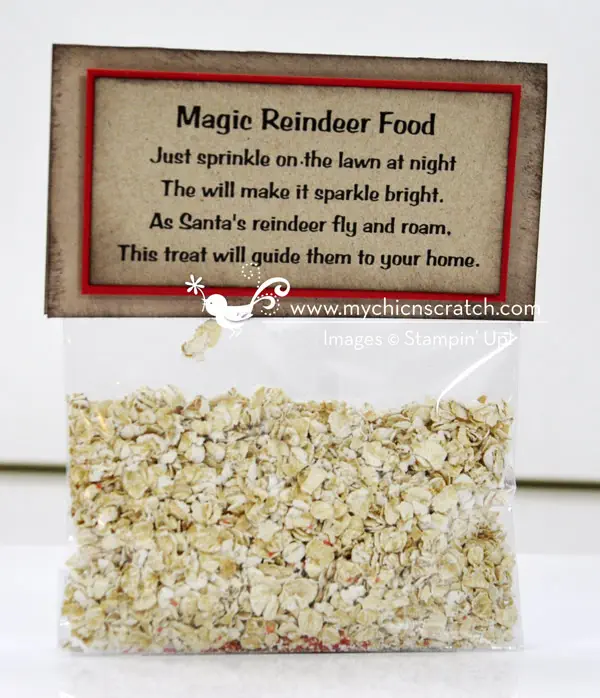 The Magic Reindeer Food is the 9th project for my 12 Days of Christmas.
p.s. my sample picture has a typo ..but the pdf is accurate.
Here's the Poem:
Magic Reindeer Food
Just a sprinkle on the lawn at night
The moon will make it sparkle bright.
As Santa's reindeer fly & roam,
This treat will guide them to your home.
I kept this project really simple …since Christmas is right around the corner.
I used the No Peeking stamp set on the back … to cover up the staple that I used to close the topper.
Magic Reindeer Food is: Quaker Oats and Cookie Sprinkles.
I typed the poem and then printed it on Crumb Cake card stock .. then I cut it to fit on the topper (poem measures 3-1/2 x 1-3/4)
Click here to download the Magic Reindeer Food Poem.
Here's a video on how to make the Magic Reindeer Food …. (I'm not sure why the video is missing in the email feed .. if you click on the link to take you to my site you can view it there or on You Tube. I will continue to try to figure out why the video is missing!!!)
Click here to download the 12 Days of Christmas #9 2012 Instructions.
Stampin' Up! supply list:
Stamps: No Peeking – Wood #126290 Clear #126292
Ink: Early Espresso #126974
Card Stock: Crumb Cake #102128, Real Red #102482
Tools & Accessories: Stampin Trimmer #126889, Cello Bag #@102757, Sponges #101610, Dimensionals #104430, Stapler
Magic Reindeer Food: Quaker Oats, Cookie Sprinkles

Thanks & have a great day!!