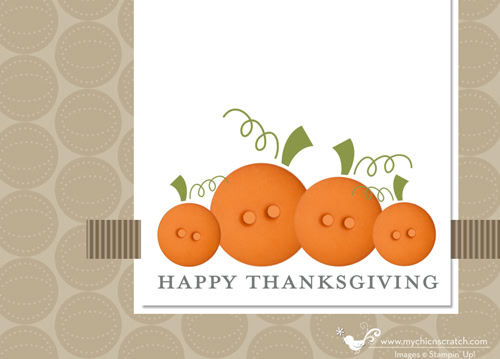 This is my November Thank you Card that I made using MDS 2.
MDS 2 is our Digital Scrapbooking software.
If you've been around awhile .. you've seen me post a project here and there using the first edition of My Digital Studio (less than ten in three years). Last year I made our Christmas cards with a picture of Miss Bella.
Now that the software has gotten a facelift …. I've decided to jump in with two feet. (sink or swim … you know what I mean?) I'm got all my downloads organized and I'm ready to get started .. but please be patient … I'm in the infant stages of digital scrapbooking and digital card making.
I'm starting with cards (baby steps) and maybe I'll get to the scrapbooking. (Miss Bella scrapbook for sure!!)
If you placed an order with me the last week of October or the month of November you'll receive one of these cards free …as a Thank you for choosing me to be your Stampin Up Demonstrator. The card is blank on the inside …so you can reuse it.
Here's a video tutorial on how to make my MDS 2 November Thank You Card. (Click on the Quality button to improve viewing … it's the little gear at the bottom of the screen.)
Here's a partial digital list:
Stamps: Button Buddies, Teeny Tiny Wishes
Punches: 1-1/4Square, 1-1/4 Circle
Other: Round Buttons
Colors: Basic Gray, Pumpkin Pie, Old Olive, Peach Parfait
We'll have some NEW Digital Downloads available tomorrow!!
Thanks & have a great day!!