I don't have a project to share with you today … but the good news is we'll be stamping tomorrow …LIVE on You Tube.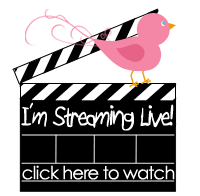 The theme will be Halloween …but if you're not a fan …just remember all you have to do is change the stamp set and the card stock and the Halloween project can be turned into a Christmas project.
To participate ….all you need to do is go to my You Tube channel at 11am Central time…. Saturday, August 4th. (That would be noon Eastern time, 10am Mountain time, 9am Pacific time.)
Click here to go to my Chic n Scratch You Tube channel.
A word of warning … LIVE streams are fun … I love them!! But if you're not a patient person ..it may not be for you. If you're not able to watch it live .. the recording will be available …and that means you can rewind and fast forward as much as you'd like.
After the Live stream .. I'll record a 10 minute or less video and post it on You Tube. (The live stream will be creating the project …. and will take anywhere from 30 minutes to an hour.)
Before I close … I have another question for you today. I'm getting ready to launch my 12 Weeks of Halloween …. but I'm thinking …
Can I do 12 weeks of Halloween (one a week for 12 weeks) and 12 Days of Halloween (12 projects in 12 days with 12 videos). Is that too much? Can I pull it off? It wouldn't hurt to try …but what do you all think?
If I don't see you tomorrow ..have a great weekend!!
p.s. Thanks for all the comments yesterday… you really stepped up to the plate!! I appreciate that you understood the explanation of my Facebook business page.