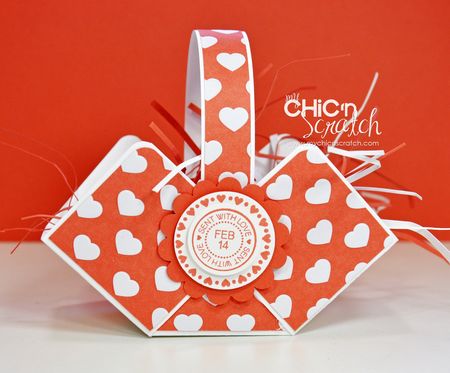 My project today is a Valentine Basket that I made with the Sweet Shop Designer Paper and the P.S. I Love you stamp set.
I used a piece of 6 x 6 white card stock to make the basket and 6 pieces of the Sweet Shop DSP that measures 1-7/8 x 1-7/8.
I've got a video tutorial ready for you … click here to head over to my Chic n Scratch Live! website.
Here's the Stampin Up supplies I used on the Valentine Basket:
Stamps: P.S. I Love you – W# 125460 C#125462
Ink: Calypso Coral #122939
Card Stock: White #100730, Sweet Shop #125408, Calypso Cora #122925
Tools/Accessories: Simply Scored Scoring Tool #122334, Corner Punch #119871, 1″ Circle Punch #119868, 1-3/8 Circle Punch #119860, 1-23/4 Scallop Circle Punch #119854, Sticky Strip #104294, Dimensionals #104430, Craft Scissors #108360
Sorry I wasn't able to post anything on Thursday and Friday!!! I had a root canal on Wednesday and then I had to take my computer into the Apple store and have them help me move some video files (everyting is okay … I just needed to clear up some space on my main hard drive).
UStream Fans … we have a situation … UStream informed me that I need to pay $99 a month to continue … but that isn't an option. So, I'm looking for other options but I'm not sure where to start. I'm open to suggestions …I tried to load them on You Tube but it said the length was too long …so I deleted 20 videos. As soon as I figure something out I'll you know. Downline girls …. we're using Go To Meetings this month… check "events" under our team site.
Thanks & have a great day!!