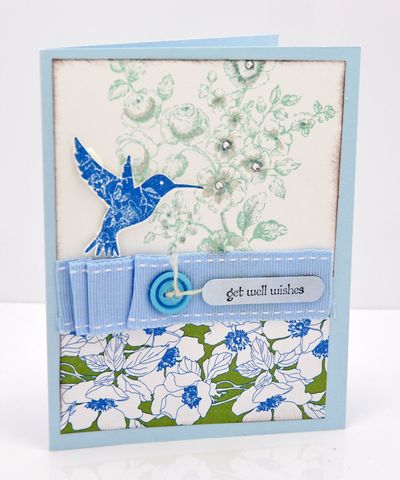 This beautiful card was sent to me from one of my downline girls ….thanks Rocio!!!
The picture doesn't do the card justice!! She used the Elements of Style stamp set ….. along with the Beyond the Garden Designer Paper.
Tune in tomorrow at 4pm Central time for a live drawing for a FREE Big Shot Die Machine. You can watch the live video over on my Stamp with Chic n Scratch UStream channel …and if all goes well ….after I announce the winner I'll demonstrate how I made my Founder's Circle swap. (Still have a cold so please excuse my voice.)
Click here to visit the Stamp with Chic n Scratch UStream channel. Click here for more details on the three Big Shots I'm giving away.
Tomorrow is Wednesday and I have scheduled my 12 weeks of Halloween week 6 & 7 ….but neither are ready. I have zero plans this weekend and will try to knock out three or four of them so that I'm not only caught up but also ahead of the game. Instead of waiting until Wednesday of next week …if I feel well enough I'll go ahead it post it on my blog. I'm really sorry about the delay …and I appreciate your patience!!
I'm working on emails for a few more hours ….and hopefully will get to the most pressing matters.
Thanks a million!!!!
Click here for details on how to win a Big Shot Die Cut Machine.