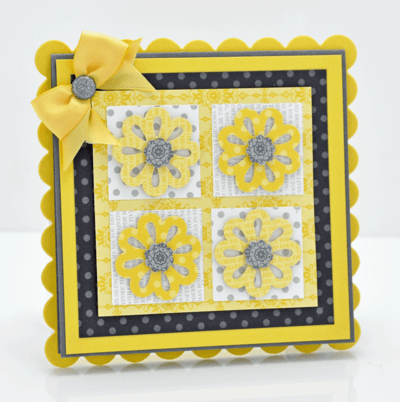 I received this beautiful card from one of my uplines back in May and I thought it would be the perfect card to share with you to showcase the Blossom Bouquet Triple Layer Punch.
You can find it on page 6 of the Summer Mini Catalog and you won't regret getting it!!
She used the Designer Series Paper Stacks for all the layers and the colors can be found in Brights & Neutrals Collections.
Don't you love how she used the Glimmer Brad with the Daffodil Delight Satin Ribbon.
The base of the card is made with the Scallop Square Big Shot Die and if you'd like to see how to make the base of this card … click here to over to my Chic n Scratch Live! website.


Thanks for all the emails, comments and support the past few days. Your kindness warms my heart!! I'd like to say I've over the worst of it …. but truth be told I'm an emotional person…always have been …always will be.
It's weird how things turn out …I had really planned to focus hard on my business the last month of the Stampin' Up! year and now I find myself saying I'm blessed with what I have. Would I like to do more ….sure…who wouldn't but the past few months have been a real eye opener for me and I really want you all to know that I appreciate that you've stuck by my side. I've hit some bumps ….and I'm taking a break…. but I've been a blogger for almost five years and you know the Holiday Crafts are my best & brightest and I'm really looking forward to it and the brand new Idea Book & Catalog!!
Take care & have a great day!!