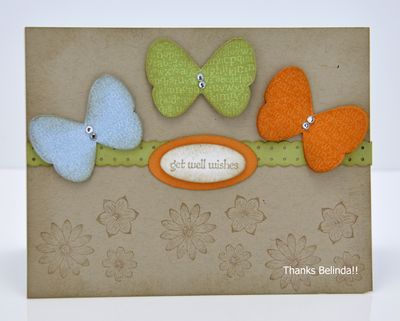 We've received a lot of cards and goodies in the past few weeks and I'm going to share them with you …. starting with this lovely card from Belinda. I love it and Brenda thank you!!! Over the next few days I'm going to post all of them (minus the candy and things that were edible ….we ate those as quick as they came in).
She made this card with the Punch Potpourri stamp set along with the Teeny Tiny Wishes stamp set.
The base of the card is Crumb Cake (aka Kraft) and she stamped the flowers on the base of the card with Crumb Cake. Here's a list of punches she used on this card: Butterfly #119848, Dotted Scallop Ribbon Border #119275, 1-3/8 x 5/8 Oval #119863 & 1-3/4 x 7/8 Oval #119855.
Don't you love the colors and how pretty the butterflies look?
Changing subjects …. this morning I worked on my Join my Team site. I noticed that it was looking outdated and I needed to rework some documents. Click here if you'd like to check it out how to become a Stampin Up Demonstrator. And …. here's a picture of my How to get Started document.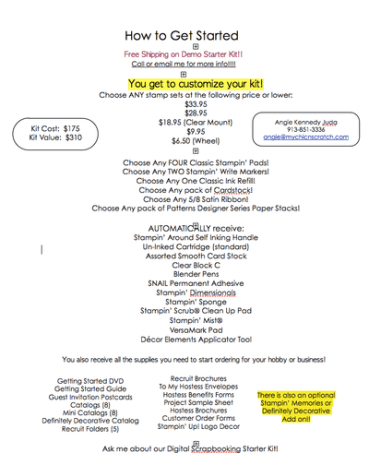 Have a great day!!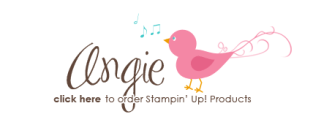 p.s. Thanks again for all your patience the past few weeks. Chase is doing much better ….he's still on non weigh bearing ….which means for the most part …. I do everything 🙂