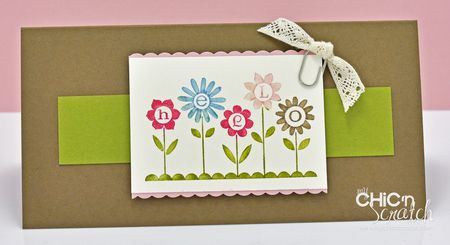 I needed help getting started this morning ….I had about an hour I could spend on stamping and I wasn't sure where to begin!!
I really like the Hello Blossoms stamp #123102 …..and I started out with the intentions of copying the card on page 7 of the Summer Mini Catalog ….just to get my feet wet again. And as I was making it I started making little changes.
It measures 6 x 3 and I started out with a piece of Soft Suede card stock #115318 that measures 6 x 6 and scored it at 3. It fits in the Small Open-ended Envelopes #107286 on page 171 of the Idea Book & Catalog.
Next I colored the image with Markers and I used Old Olive #100079, Rose Red #100063, Marina Mist #119679, Blushing Bride #119801 and Soft Suede #120973 (I used Marina Mist because I can't find my Baja Breeze at the moment).
I stamped the image on a piece of Very Vanilla card stock #101650 that measures 2-7/8 x 2 and behind it I added two pieces of Blushing Bride that I cut out using the Dotted Scallop Ribbon Border Punch #119275.
Here's a few other notes about the card …the Old Olive strip #100702 measures 5 x 1….. and I added the main image with Stampin' Dimensionals #104430. The Chantilly Crochet trim #118480 was added to the clip found in the Clips Assortment #112580.
Have a fantastic weekend and Happy Mothers day to all the moms out there!!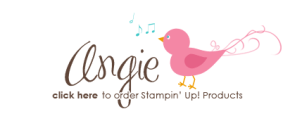 p.s. Chase and I had a better night last night …once again his pain is much more manageable ..doesn't that always happen after you call the doctor? I'm so happy he and I both got some sleep…it makes a huge difference!!