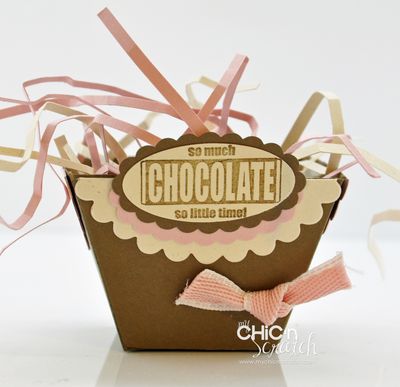 Isn't this box darling? It was made using the Petal Cone die from the Occasions Mini Catalog.
I've heard from a few of you asking if I like the Petal cone die….the answer is YES! And…..after I show you all the projects you can make with it…you'll see why.
The box was cut out with the Petal cone die with the Crease pad, the cutting pad seems a bit harsh and cuts through the scrore lines (but all Big Shots are different and yours may be able to handle the cutting pad).
The colors are Soft Suede, Blushing Bride and Very Vanilla ….along with the Eat Chocolate stamp set.
I'm filming the video today….and if all goes well I should be able to share it tomorrow. Click here if you'd like to watch the video on how to make the Petal Cone Box.
Thanks & Have a great day!!
p.s. if you've tried to click on my signature to place your Stampin Up! orders…the link was broken…but it's fixed now!!
Petal Cone Die #121810
Eat Chocolate stamp set – Wood #121931 – Clear #122006
Blushing Bride Poly Striped Ribbon #119267
Crease Pad #113476
1-3/4 x 78 Oval Punch #119855
Scallop Oval Punch #119856
Glue Dots #103683
Soft Suede ink #115657 card stock #115318
Blushing Bride card stock #119796
Very Vanilla card stock #101650