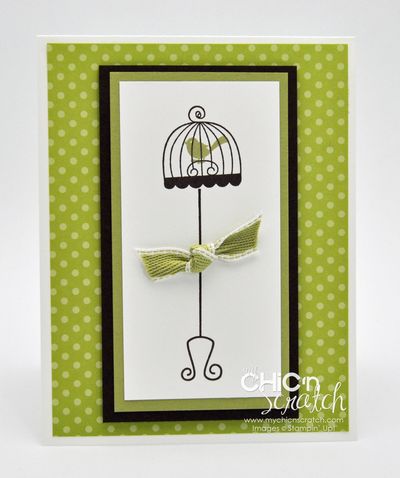 I love the Aviary stamp set found on page 121 of the new Idea Book & Catalog!! And ….out of everything I ordered…. I just had to use this stamp set first!! Almost everything on this card is new & I had a lot of fun making it….even though it's a pretty simple card to make.
I stamped the bird cage with Early Espresso ink and stamped the bird in the cage with Pear Pizzazz. My card measures 11 x 4 1/2, scored at 5 1/2. I used the Pear Pizzazz Designer Paper from the In Color Patterns Designer Paper Stack. This one will be a favorite of mine this year because it has multiple sheets of one color and that will make it much easier when designing for my clubs & classes.
Last but not least….isn't the new ribbon cute? It's the Pear Pizzazz 1/2″ Stitched Poly Ribbon on page 190. I love how soft it is!!
Click here if you'd like to watch the video on how to make this card.

Aviary Stamp set C #120462 W #116956
Early Espresson Ink #119670 & card stock 119686
Pear Pizzazz Ink #119784 & card stock #119795
Pear Pizzazz 1/2″ Stitched Poly Ribbon #119265
In Color Designer Paper Stack #117158
Whisper White card stock #100730
Mini Glue Dots #103683
Stampin' Dimensionals #104430
Thanks for all the comments and emails regarding Chase and the changes I'll be making. Several of your emails brought tears to my eyes & re-read all of them at least twice. From the bottom of my heart thank you!!!
Here's what I'm working on the next few days
Posting all the details for my new catalog Product Shares.
Shipping free Chic Stands to everyone that ordered during the special.
Checking 2700 + emails 🙂 don't let it scare you….that's not uncommon.
Mailing the remainder of the June Free Cards.
I'm forgetting something but can't remember :O
Thanks for stopping by!!