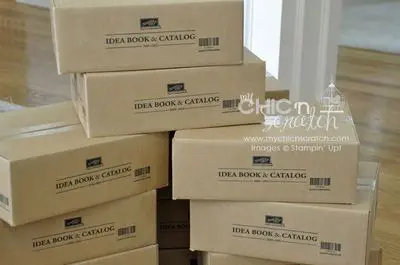 The brand new Stampin' Up! catalog has arrived!!
10pm update: I'm short several boxes of catalogs 🙁 I'm still trying to figure out what I'm going to do. I should have counted them before I created my blog post. You might want to call me if you're planning on coming by. I'm really sorry!!
Tomorrow (Saturday, June 26th) you can pick up your catalog from 12-4pm. If you're a club member you get one free. Club members will also get to choose one free stamp set from my stash of retired items.
If you're not a club member and want to buy a catalog, they are $5. I'll have sign up sheets here if you'd like to join club. When you join club …you will also get a free catalog & a free stamp set. The catalog will go home with you tomorrow (see note above) and the stamp set will have your name on it to pick up at your first club meeting. I'll have all the details on how to join club available tomorrow.
Important info: The Retired items I'm selling tomorrow are not items that are currently on the retired list. Those items can not be sold until after July 1st and if you're interested in those items I'll be having a real Open House after Convention. Tomorrow is really just a drop in kind of thing!! Ladies if you've been to my Open House before….this is not what I'm having…those are nice & organized & I have everything pretty…see photo gallery for a look at one of those. This is called quick & dirty 🙂 and getting it done (I could hear Larry the Cable guy say Git r done in my head just now).
If you rsvp by midnight tonight that you're attending, I will have a little goodie for you.
For those of you that ordered a catalog or for my customers that ask for one….. I'm packing them now (Brooke is adding labels as I type) and I will ship them tonight.
Click here if you'd like to order a catalog.
Have a great weekend!!
p.s. my office is still closed…..event will be held on the main level of the house. I hope to have my office finished by July Stamp club but no promises…it maybe August. When you see it…..it will be worth the wait!!