Good morning!
My card today is using the It's a Thought hostess stamp set and it's also the set I'm giving away at the end of the month. (Click here for more details on my Free stamp of the month.)
This card measures 4 1/4 x 4 1/4 and I used the Scallop Edge punch for the bottom. I used the Stem Sayings stamp set for the greeting and the giraffe is from the It's a thought stamp set. I used the Large Oval Punch on the white card stock and layered it with the More Mustard that I punched out with the Scallop Oval Punch.
This card came about when I was digging through my stamps this weekend. When I posted the details for The Last Chance List Contest it made me think I better start using my sets that I think may retire. I'm not sure Stem Sayings will but I've had it long enough it may.
Here's the next card I made with this set…….in the middle of making this card I lost my train of thought…….I suddenly remembered that Celebrity Apprentice was on and I really wanted to see who won. It was very touching and I hope that Brett continues to get better!!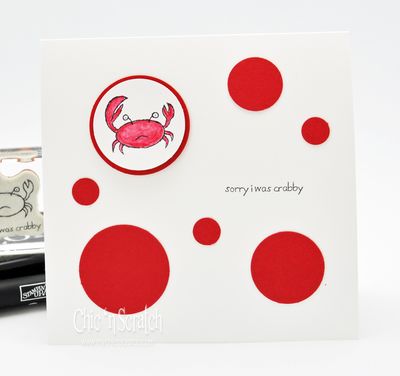 It's missing something….but I still like it 🙂 or maybe I should rearrange the circles? I used the It's a thought stamp set on this card too and a whole punch of our circle punches!!
Last but not least….I've posted on the Sewing/quilting blog, click on the image below to go to my Chick n Scratch blog.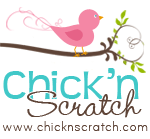 It's a thought Hostess stamp set -Clear #120027 – Wood #118656
Stem Sayings stamp set #115078
Large Oval Punch #107305
Scallop Oval Punch #114889
Blender Pen #102845
More Mustard Marker #100076
Watercolor Pencils #101879
1 3/8 Circle Punch #104401
1 1/4 Circle Punch #104403
1″ Circle Punch #109046
3/4″ Circle Punch #107217
Itty Bitty Shapes Punch Pack #118309
Have a good day!!