Good morning!
I'm super excited to share my project with you today!! It's a Santa Box using the Top Note Die.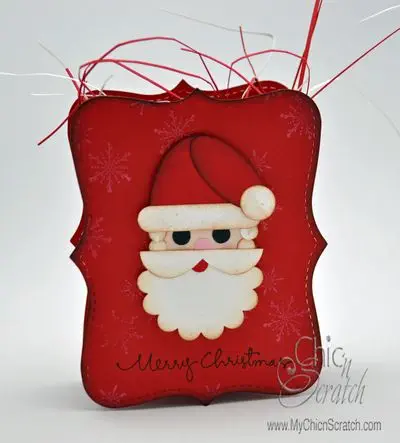 I created this box to fit the Top Note die. How I started it is…….. I took the Little Halloween boxI made a few months ago and just made it larger. The videos are filmed…..on how to make the Santa and the Top Note Box and I'll let you know as soon as I can get them loaded on my Chic n Scratch Live! website. (I almost added the rebar tie wire to add handles….I may do that on the next one.) You'll make this Punch Santa with all our Stampin' Up! punches.
A big "Thanks" to Linda for sharing her Santa with me! I had to alter him somewhat to get him on this box. I'll share the full body Santa soon!
Here's the supply list:
Serene Snowflake stamp set
Christmas Greetings stamp set
Top Note Die
Big Shot Die Cut Machine
White Craft Ink
Basic Black Ink
Creamy Caramel Ink
Pretty in Pink Ink
Stampin' Pastels (chalk)
Scallop Circle Punch
Small Oval Punch
Full Heart Punch
Word Window Punch
1/2 Circle Punch
1 3/8 Circle Punch
1/4 Circle Punch
Sponges
2-Way Glue Pen
Stampin' Dimensionals
If you're a Stamp Club Member or 3D Kit Club Member, this is one of your November projects 🙂 And if you're thinking of joining local club or long distance I have openings for each, just let me know if you'd like more info.
Thanks & have a great day!
Click here if you'd like to place a Stampin' Up! order or join my team.
p.s. regarding my 12 weeks of Christmas…..I had to give up something when I was trying to pack up our house. now that we're not moving I'm going to attempt getting caught up!!
p.s.s. tomorrow is you know what…..and I'm so excited!! Who's counting the hours until New Moon begins at midnight tomorrow? We're going to see Twilight first……. AMC is brilliant for showing both movies back to back!!