Good morning!
Remember last month when I mentioned that I was using the Top Note Die to Quilt? Well, that project was a flop….but ….this one is not 🙂 Actually what happened is when I tried to make a purse with it…… the shape was lost …so, I ditched it. Here's my new project…….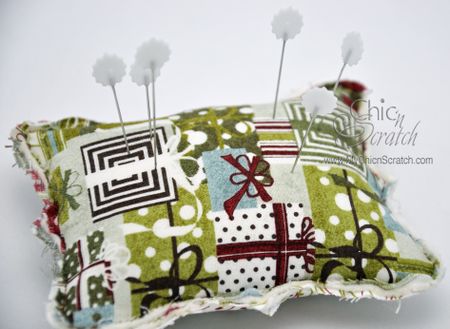 How cool is my new Top Note pin cushion? But don't look too closely this is my warm up version.
I'll share how I came about creating this. I was in the kitchen with Dave last night and he was watching TV and I was thumbing through my new Quilting Magazine and I stumbled across a darling pin cushion in the shape of a rectangle and it had a leaf on it. It was like a light bulb moment…I said I'll be right back. I ran to my stamp room, grabbed four pieces of Figgy Pudding fabric and two pieces of batting. Ran them through the Big Shot, stuffed it with Polyfil and pinned it and sewed it 🙂 It seriously took me less than five minutes. (It helped that I already had a bobbin with chocolate thread on it.)
Things that I will change on my next one is make the batting smaller, the edges are sticking out the sides. And I might try a Blanket Stitch around the sides instead of sewing it on my machine. But by doing that it will take longer….so I'm not sure.
Other ideas as I'm looking at it:
Couldn't you see adding some ribbon and making it an ornament? You could also monogram it if the pattern of fabric was less busy.
Add a squeaky thing and it can be a dog toy.
Doll pillow
Here's two pictures that show it without the pins…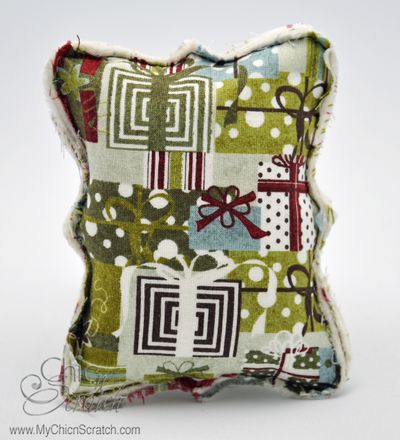 turned the other direction …..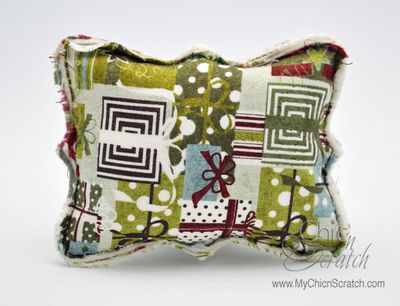 Have a great day & thanks for stopping by!
Click here if you'd like to place a Stampin' Up! order.
p.s Tune in tomorrow for a picture of my rag quilt blanket squares (they are cut and I'm in the process of deciding how to place them).
p.s. THANKS for all the kind emails & comments about the news that we're not moving!! I felt like I had an elephant on my shoulders and he's been removed. The sky is the limit again :))))