Good afternoon,
My project today is a Photo Coaster Ornament that I made using the 4″ Circle Coasters. You can use either the Heavy weight or Medium weight and if you're looking for them you can find them on my Chic n Scratch Shack. Click here if you'd like to go there now.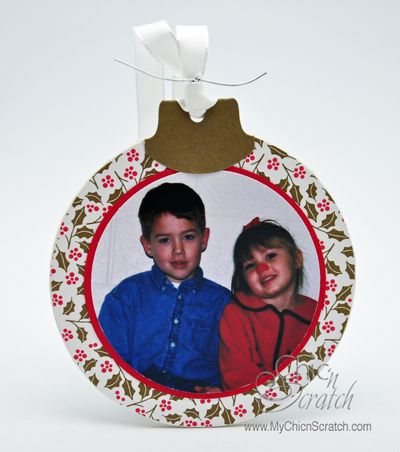 They're really easy to make them and you can make a bunch real fast. I used the Christmas Cocoa Specialty Paper and I cut it in a 4 x 4 square. Apply adhesive to the paper and attach it to the Coaster. Trim the extra paper off and then sand the edges with a Sanding Block.
The Round Tab punch works perfectly for the top of the ornament and you'll need around 16″ of White Taffeta Ribbon.
This is a picture of Chase & Brook back when they were really little (if my memory serves me correct, that was 1998). Brook has red paint on her nose because she was in a Christmas play at preschool.
Extra Notes: Today is my Stampin' Up! anniversary. I've been a Stampin' Up! demonstrator for 7 years 🙂 And today is the internet's birthday. The Internet is 40 years old today….isn't that interesting?
Here's the Supply List:
Christmas Cocoa Specialty Paper # 116770
Round Tab Punch #108340
Crop a Dile #108362
White Taffeta Ribbon #109070
Soft Suede Cardstock #115318
Real Red Cardstock #102482
Circle Cutter or Punch
Silver Cord #109866
Sanding Block #103301
4″ Circle Coaster (available on my Chic' n Scratch Shack)
Printer Friendly Supply List – Download Photo Coaster Ornament
Have a great day!