Hi!
I'm happy to report the Halloween Kits are finished and ready to be mailed….early 🙂 I have a few left if you would like to order one. Click here to see the details or place your order.
I meant to post pictures of Founders Circle all week but there's just not enough hours in the day. I did create an album and you can view it in two different spots. Right under my banner you can click on Photo Gallery and then look for Stampin' Up! Founders Circle 2009, click on the first picture and the entire album will appear. The other spot you can find it is on the right side bar of this blog…just scroll until you find the album. (I have plans to create a Founders Circle Digital photo album with My Digital Studio but it may take me a while, I'm still playing catch up.)
Here's two photos that you will find in that album….. The first one is of Angie & I ….we share the same name and we dressed alike (total fluke….we did not discuss what we were going to wear). The best part of Founders Circle was I made friends!!! Angie & I totally clicked like we were sisters 🙂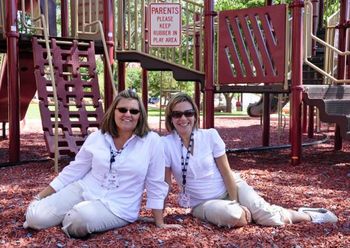 The next picture is a card that Jill shared with us …it was one of my favorites with the Sweet Centers stamp set.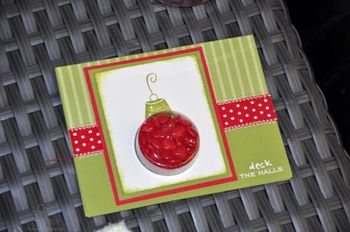 I have more pictures to add but it may be next weekend before I can get it done.
Downline girls….the kits you've been asking for are available on our team blog…check it out asap….they're available while supplies last. I'm testing the waters …..and making my 3D kits available for my team members.
This post is all over the place…..forgive me!!
Last subject….Quilted Flowers & My Digital Studio – Local customers & team members. Stop by on Tuesday 2pm to 5pm to see a demo of each. RSVP and I'll have the supplies available for you to take home a Quilted Flower. (RSVP…means I just need an hour or so notice.) or Thursday 5pm to 7pm. (You'll also get to check out my swaps from Founders Circle.) Sorry for the last minute notice….you will be rewarded if you can make it 🙂
Goodnight!