Twick or Tweet Box
My project today is one that I've been waiting a week to show you. I used the brand new Twick or Tweet stamp set from the Holiday Mini Catalog. And, I used the Cast a Spell Designer paper to decorate the box. (Club ladies, this is one of your September club projects.)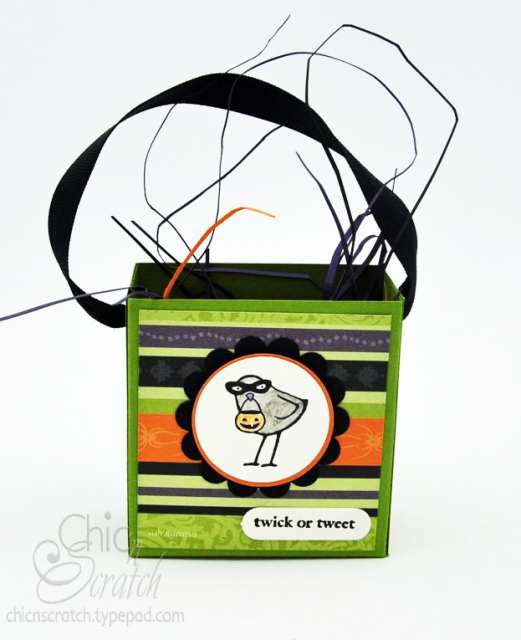 Supply List:
Twick or Tweet Stamp set #116497
Scallop Circle Punch – Black cardstock #109043
Word Window Punch – White Cardstock #105090
Old Olive Cardstock – Box
Cast a Spell Designer Paper #115677
Black Grosgrain Ribbon#115605
Watercolor Pencils #
Blender Pen #102845
Crop a dile (used to make the holes for the ribbon) #108362
1 3/8 Circle Punch – White Cardstock #104401
1 1/2 Circle from Circles #2 die #114526 – Pumpkin Pie Cardstock
I've decided to call it the Little Halloween box because I came up with the idea all on my own. I filmed a video to show you how I made it and how I came up with this size. But…instead of showing you how to make it with this design….I decorated it with the Frankenstein. I've made about ten of these boxes and over the next couple days I'll show you the others.
Here's the picture of the Frankenstein, Mummy & Dracula. You can get two of these boxes per sheet of cardstock….isn't that awesome?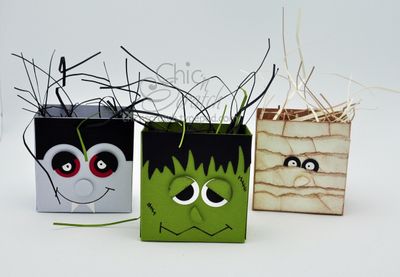 Last year when I made 30 of the Franky boxes with the Rebar Tie Wire it took me hours to make them….so this year I decided to go with fast & affordable. I'm determined that this year I'm getting my goodies made early.
Have a great day!!
Click here if you'd like to place a Stampin' Up! order.
p.s. The box is loading on You Tube now and as soon as it's done I'll post a link right here when it's available.
What's next? Tomorrow I'll post the Free stamp set winner for August and the Free set for September. I'll also post the details for the Creative Contest. (If my headache goes away I may get it posted this evening but for now I need to focus on getting rid of this terrible sinus headache…..it's that time of year again!)