Good morning!
I love the card I'm sharing with you today!! It was made with the Sweet Centers stamp set & the Chit Chat Rub-ons.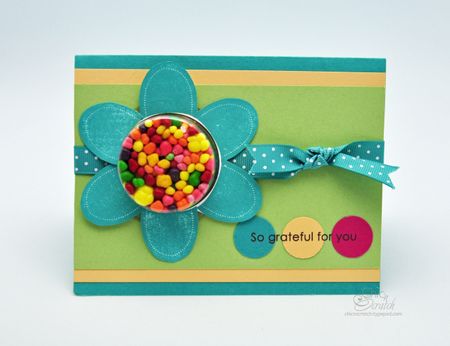 This card was given to me last week and I have a little story for you that will make you laugh. During Stamp club Monday evening someone ask me how the flower was made. I was totally clueless……. I searched the dies, the stamp sets & couldn't find it. Do you know what it is? I do now…..those flower petals are in the Sweet Centers stamp set. It's that one piece that I didn't know what it was….I scare myself sometimes.
Here's the supply list for this card:
Sweet Centers stamp set #116521
Sweet Treat Cups #116802
Chit Chat Rub-ons #111804
Bermuda Bay Polks Dot Ribbon #115610
Celery Cardstock #105125
Bermuda Bay Cardstock #115317 & Ink #115655
Apricot Appeal Cardstock #105124
Melon Mambo Cardstock #115320
Whisper White Cardstock #100730
Have a great day!!
Click here if you'd like to place a Stampin' Up! order.
p.s. I'll post again later today. I'll announce the winner for my Creative Contest and I'll post more pictures of my Quilted Flowers (warning….I'm a tad obsessed with making them). You can make them without sewing …more details soon.