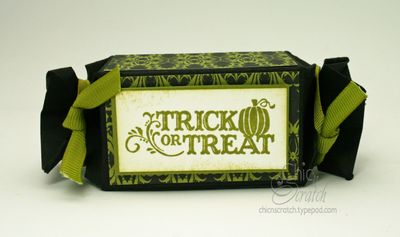 Good afternoon!
I don't know why…. but I'm so stinking excited today! We got home from the lake and I have new stamps, ink, paper….and a whole lot more! I'm like a kid in a candy store. Plus Stampin' Up! posted some new ideas on our website and that got me to thinking about Halloween projects.
I used the Holiday Best stamp set and that's a Level One Hostess set. (If you're taking advantage of my In-Color Bundle Special, this is one of the sets you can choose. (Click here to view the details on my In Color Bundle Special.)
The Cast-a-Spell designer paper is also new and I'm kicking myself that I didn't order the From the Crypt stamp set, that spider would look perfect on this box! (it's going on my next order.)
Stampin' Up! provided us with a tutorial on now to make the Twist Box and I was so excited I made five of them. I'll film a video this week but to be honest…..I need to practice the pull, push, twist & smush technique.
Thanks for joining me!!
p.s. The Deal of the Week is the Sizzix Big Shot Doctor's Bag for $49.99. Click here for more details.